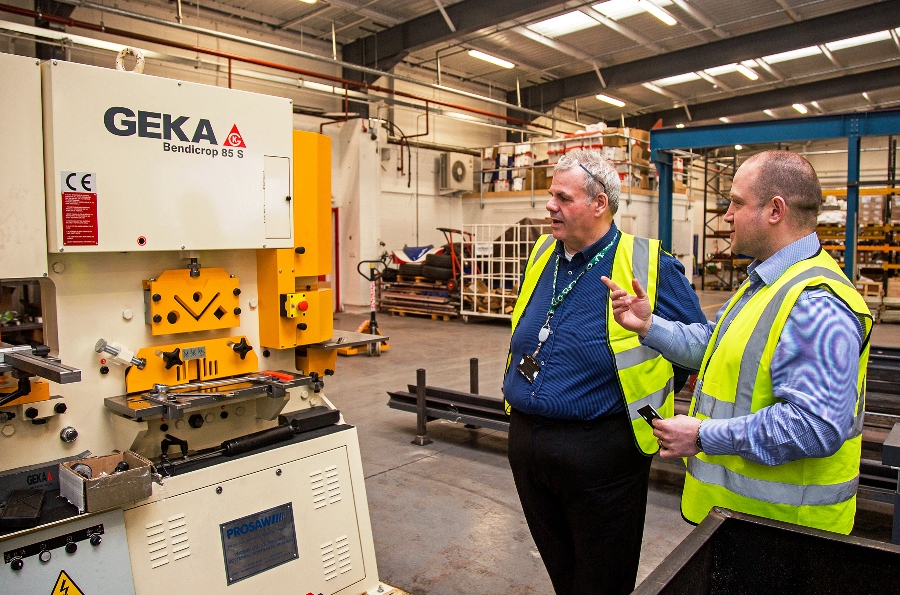 Local fire protection company realises burning ambition to bring manufacturing back to Rochdale
Posted by Aahmed on 30 Mar 2016 at 10:07
A local company which designs and installs sprinkler systems is bringing manufacturing back to Rochdale in a move that is expected to bring £500,000 into the local economy over the next 12 months.

A&F Sprinklers Ltd, which supplies a number of big blue chip clients, previously used several suppliers which imported key components used in their sprinkler systems from the Far East.

But with help from Rochdale Borough Council, they have now bought specialist equipment and set up a new company, Fire-Mech Fixings Ltd, which produces the vital fixing and bracket components right here in Rochdale.

The move has allowed Fire-Mech Fixings Ltd to create several new jobs to add to the current 35-strong workforce at A&F Sprinklers Ltd. The new company is also on track to generate a £500,000 turnover in year one, which is expected to rise to £1m in its second year.

The new company is based in a 10,000 square feet manufacturing plant which is next to A&F Sprinklers' offices in Gorrells Way. The previously unused space is now nearing capacity after only being part-used for the last few years.




Council Leader, Councillor Richard Farnell, said: "It's great to see a company which used to import from The Far East bringing production back to Rochdale. We have a strong manufacturing base in Rochdale, and with inward investment for this project totalling £0.25m, it's clear to see the huge benefits this has for our borough and its residents."

Duncan Parker, Director of Fire-Mech Fixings Ltd, said: "We are pleased that with the help of Rochdale Council we have been able to get 10,000 square feet of previously unused space back into commercial use. Our recent purchase of state-of-the-art machines has increased productivity and helped us stay ahead of the competition. This has already put us ahead of our projections, which in turn will create several more employment opportunities in the future."

Businesses which would like to find out more about expanding or relocating in Rochdale, should contact Rochdale Development Agency on c.hopkins@investinrochdale.co.uk or 01706 868999.

Photographs

Pic 1: Company Director Duncan Parker (right) shows Council Leader Richard Farnell one of their new state-of-the-art machines
Pic 2: Flying the flag for manufacturing in Rochdale: (L-R) company director Duncan Parker with council leader Richard Farnell


Notes to Editors

For more information about this story or higher resolution images, please contact Rochdale Borough Council's media team on 01706 926002 or newsdesk@rochdale.gov.uk.

NEW: Live broadcast quality interviews are now available via our ISDN number, 01706 341760. To set up an interview please contact the team.