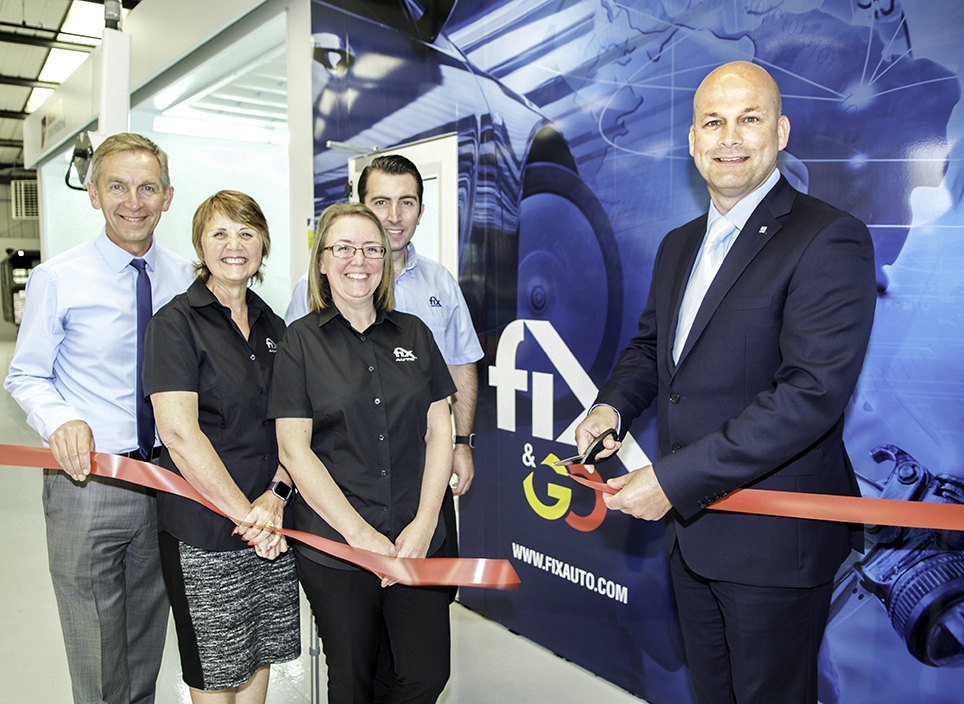 FIX AUTO ROCHDALE OPENS FIX & GO EXPRESS REPAIR FACILITY
Posted by CBuckley on 30 Jun 2016 at 09:53
Phil and Wendy Ewbank, owners of Fix Auto Rochdale, have declared their new Fix Auto Fix & Go express repair facility officially open.

More than £1 million has been invested in creating the standalone express repair centre in a unit adjacent to their existing bodyshop, which also features meeting rooms and offices which will allow retail and fleet clients to work or relax while their cars are being repaired.

Careful consideration and planning has gone in to developing an open-plan 11,000 sq ft workshop complete with a Junair four-bay multibooth spraybooth. That, coupled with a raft of state-of-the-art equipment, will ensure most vehicles entering the bodyshop are repaired within a maximum two-day timeframe.

The new centre will also allow the business to further develop its niche in repairing and repatriating military vehicles, and takes the repair capacity across the business' two operations to 60 vehicles per week.

Commenting on the project, Phil said: "I'm a great believer that if you're going to do something you have to do it right, and I firmly believe that we have achieved our goal in developing a class-leading express repair centre. When we took over the building it was in a real state of disrepair, but with vision we could see that it would provide us with the foundation for something special.

"At Fix Auto Rochdale we pride ourselves in providing the very best customer experience, and it was critical to me to make sure we replicated those standards to our express repair customers. The facilities are geared up to ensure that those who choose to wait for their repairs to be carried out can do so in comfort or, if necessary, can carry on working from professional facilities."

Ian Pugh, of Fix Auto UK, who opened the new bodyshop on behalf of Fix Auto Rochdale, said: "You have to congratulate Phil and his team on an outstanding development. While no stone has been left unturned in creating a great working environment for staff and for customers, a lot of attention has clearly gone into the production facilities. I am confident that this site will deliver excellent performance to our customers and I am delighted to see that our franchisees continue to invest in providing additional capacity to our clients."

Phil added: "I've previously shared my thoughts that there's clearly a shift to less severe damage on vehicles and by operating the Fix & Go model in conjunction with our traditional bodyshop, we are confident that we will be able to cater for this growing market segment and further improve our service delivery all-round. This investment will ensure that we are able to deliver much needed repair capacity to the Greater Manchester and West Yorkshire areas, and we will look to continually improve the customer journey and reduce the overall cycle times of our two bodyshops."

Photo Caption: Ian Pugh of Fix Auto UK cuts the ribbon declaring the latest Fix Auto Fix & Go express repair facility open for business with owners (from left) Phil and Wendy Ewbank with Managing Director Michelle Walker and VDA and Business Development Manager Lee Ewbank.