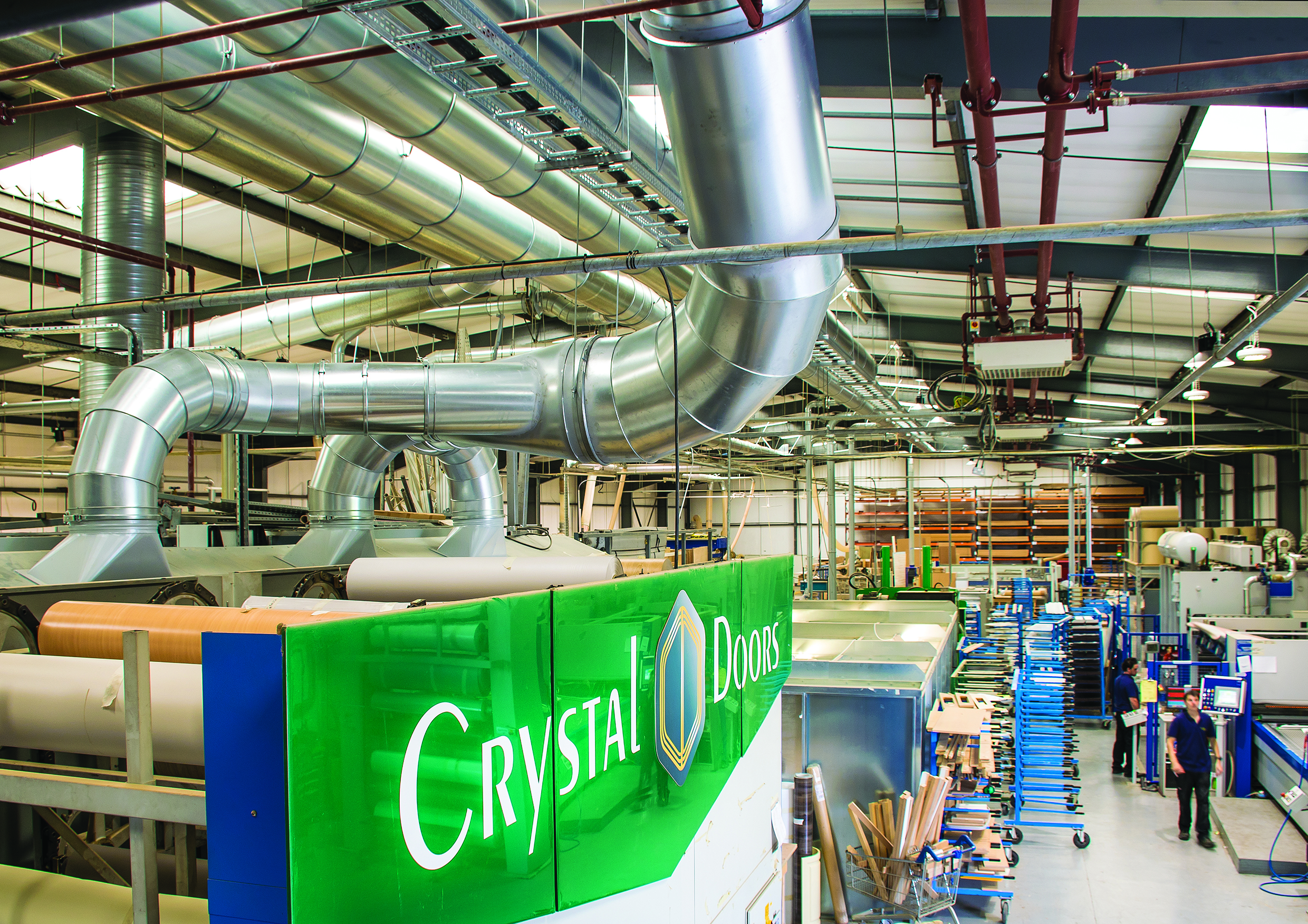 Crystal Doors
Crystal Doors is a Rochdale-based manufacturer of vinyl wrapped doors and accessories, producing bespoke doors of any size for homes, shops, hotels and healthcare facilities. The doors are carefully cut from wood that is sourced from certified sustainable forests, before being finished in hard wearing vinyl. Needless to say, it's a thorough process and - with around 200,000 individual pieces produced each year - one that results in a considerable quantity of waste.
Where others might have seen that waste as a problem to be solved, managing director Richard Hagan saw it as an opportunity to be grasped. Crystal Doors had already implemented a range of environmental initiatives when a plan was hatched to use power from off-cuts of wood to provide heat and water for the company's factory and offices on the Transpennine Trading Estate.
Richard explains: "What that meant in reality was the installation of 980kW biomass boiler, which is completely fuelled by the waste we produce on site. That means we not only reduce power costs, we reduce waste disposal costs too."
Paying for itself
The installation is fitted with ceramic filters to help clean the air, and a separate state-of-the-art Industry 4.0 dust extraction system ensures no MDF dust ends up in the Rochdale Canal. That's essential, because the canal is designated as a Site of Special Scientific Interest by Natural England.
The investment in this sophisticated equipment has been considerable, but Richard is confident it will more than pay for itself. Crystal Doors' waste recycling system is eligible for the Government's Renewable Heat Incentive (RHI) subsidy scheme. Add that to heating, water and waste disposal efficiencies and the total annual saving is likely to be around £80,000 a year.
And as Richard explains, it's not the only way the company is grasping the opportunity to use green technology to drive efficiency. Previously, the company was assisted by the Greater Manchester Business Growth Hub to install power factor correction equipment to increase the efficiency of its electricity supply, resulting in cost savings of around £2.500 a year. It also uses LED lighting and has installed solar panels.
"We are well on the way towards the ISO 14001 Environmental Management standard and we hope to make Crystal Doors a carbon positive operation by the end of the year," says Richard. "During a recent bank holiday we were putting power back into the grid."
Going green - growing a business
These initiatives are proving good for both the environment and for business. The company employs around 34 staff in Rochdale and is growing year-on-year. Established in 1994, Crystal Doors has earned a glowing reputation for both its well made products and its quick, comprehensive service. Its customer base stretches across the UK and into Europe and the US.
Like many local business people, Richard credits Rochdale's excellent location and transport links for their part in the company's success, alongside a supportive business environment nurtured by local MP Tony Lloyd and Rochdale Borough Council.
"We've also had great support from the Rochdale Development Agency (RDA)," he continues. "They've been with us since the beginning, helping us to find property and access funding. They are a one stop shop for businesses in Rochdale and it's great to know that if you have a question you can pick up the phone to them and quickly get results."
Richard is positive about the future not just for Crystal Doors, but for Rochdale more widely. He believes there is a great opportunity for Rochdale to play a key role in a thriving Greater Manchester region. "The town is getting better all the time. Rochdale is certainly very well connected, but it's more than that. Everybody concerned is pushing in the same direction, and helping to make it a very business-friendly place. That is drawing business to the town."