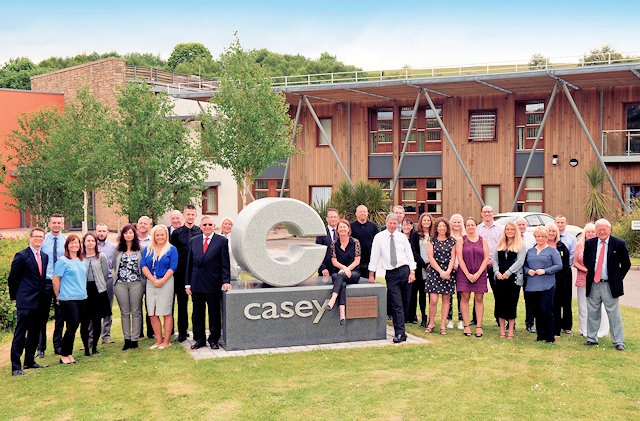 Casey
When local businesses talk about the benefits of being in Rochdale, they tend to mention its great location, convenient transport links and history as a centre of industry and commerce.
But Matthew Sorrigan, Group Business Development Director of construction and property firm Casey, says it would be wrong to overlook another crucial aspect of the town's appeal.
"Quite simply, it's an exciting place to be", he says "offering lots of opportunity and a great work/life balance close to some of the country's most outstanding countryside, complemented by its great logistical position and excellent transport links to Manchester City Centre and the NW region."
Casey is a family firm, wholly owned by the Casey family with family values at its heart.
With a five decade-long association with Rochdale, the company has worked with the Council throughout this time focusing on delivering socio-economic benefits - promoting inward investment, stimulating development activity and engaging with local businesses and education partners to provide and develop employment, training and recruitment opportunities.
Matthew himself is a member of the Rochdale Ambassador scheme, which aims to use well connected local business people to promote Rochdale more widely as a place to do business.
Matthew describes the company's relationship with Rochdale as "symbiotic".
"As a family business we are committed to the growth and prosperity of our people, Rochdale, Greater Manchester and the North West as a whole. Our company purpose is 'Improving lives' and this is reflected in everything we do. We want to make Rochdale, as we encourage our people to "be the best they can be" and by investing our energy in being part of the Ambassador programme we will make a tangible legacy providing long lasting benefits to the Rochdale area".
Casey is headquartered in Rochdale, employing around 300 people directly with 90% of employees living within the Rochdale and Manchester area. The company works with Hopwood Hall College and other local education providers helping to design courses which will equip talented local people for careers in the construction sector. The company currently employs 15 apprentices and has recruited over 150 since 2000 with 80% of these still employed by the business today.
"The construction industry over recent years has seen of reduced number of skilled and talented people attracted to work in the industry - we are proud of our industry and passionate to see it prosper and are keen to recruit and train the local population, not just for Casey, or Rochdale but for the benefit of the construction industry as a whole" says Matthew. "There's an excellent talent pool in Rochdale with brilliant local colleges - we are proud to work with them providing employment opportunities and bringing talented young people into the construction industry."
Casey itself is in the middle of an ambitious expansion plan with the aim to grow revenue to £84m by 2020. Matthew credits Rochdale's transport links and support of the Rochdale Development Agency as further reasons for the town's re-emergence as a centre for business.
Another factor which marks the town out, he says, is the "forward thinking, ambitious council".
Like other business people in the town, Matthew appreciates the value tangible inward investment into the town over the last few years, such as the town centre regeneration project and nationally recognized commercial warehousing and business facilities on Kingsway Business Park has in providing confidence to the marketplace to invest in Rochdale.
"It's great to see the strides the town is making," he says. "There's more to be done of course and we are working to achieve this in a long-term partnership with the council and RDA. Our DNA is part of this town and in our 50th anniversary year we are proud of our history in Rochdale and look forward to working and investing in the town over the next 50 years."