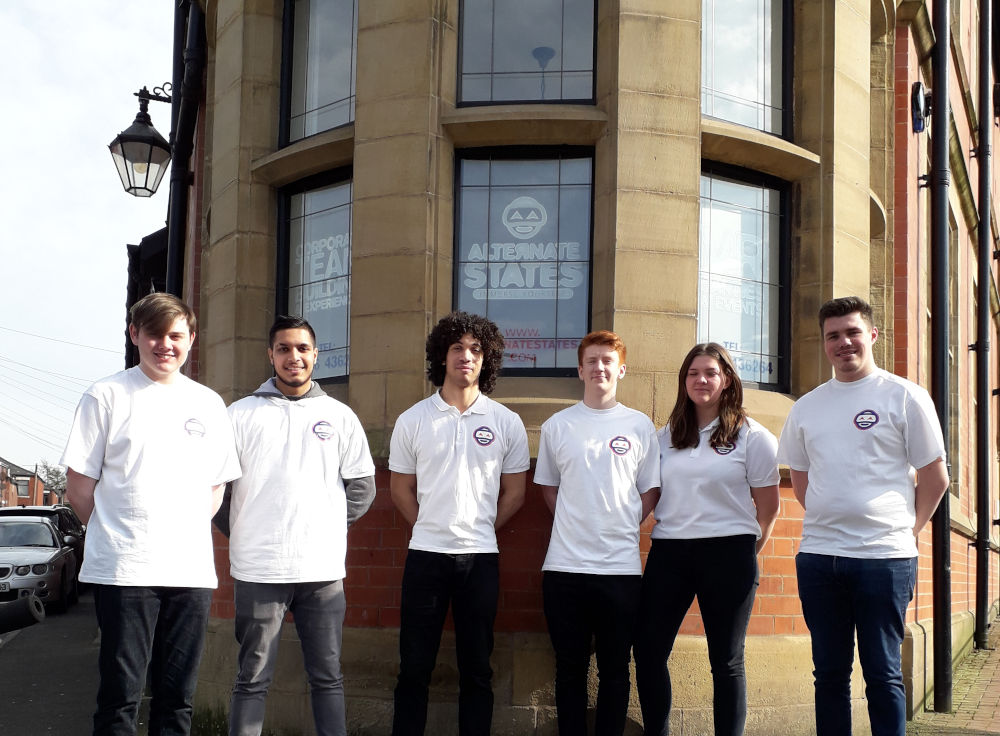 Alternate States
Alternate States opened at the beginning of April and offers unique VR experiences from its home in the old library building in Castleton. Alternate States boasts a suite of state-of-the-art VR technology unmatched anywhere in the North of England. This groundbreaking VR experience centre, where gamers mix with fitness enthusiasts, families and groups of corporate team builders, is another first for the town.
Growing up in business
Alternate States is all the more remarkable for being the brainchild of 21-year-old business graduate Jake White. But then Jake has been immersed in the world of high tech business for as long as he can remember. He is the son of Steve White, who set up Continum when Jake was born so he could spend less time on the road (as an IT consultant) and more time with his new family.
It was a decision that has paid off handsomely, both personally and professionally. In 2001 Continum began developing its own software, and in 2008 created its LoneWorker Manager platform. LoneWorker connects lone and remote workers to a dedicated alarm centre, wherever they are in the world. It helps ensure compliance with health and safety legislation, promotes a culture of safe working, and facilitates auditing and corporate governance.
Steve adds: "The development of LoneWorker coincided with a new focus on corporate responsibility and some high profile corporate manslaughter cases. Businesses had to take employee safety seriously, and that included workers out in the field."
Rochdale is home
As a result, LoneWorker has been a huge success, first in the UK and then further afield. In 2016 American Water became its first major US client. Continum continues to develop LoneWorker alongside other projects, and now operates a US satellite office.
But Rochdale remains home, and for good reason. Steve says that both Continum and Alternate States (he is a director of his son's company) have benefited from business support "that is second to none."
He continues: "The team at Rochdale Development Agency (RDA) have gone out of their way to support Continum. They helped us get property. They've helped us with recruitment and training. More recently they put Jake in touch with the finance specialists he needed to get Alternate States off the ground. It's the kind of support that you just wouldn't get in Manchester or another big city. They care about making your business a success."
Steve is also highly complimentary about the town's two Further Education colleges, as well as independent training provider Rochdale Training. The company employs staff that have attended all three.
A spirit of cooperation
While Steve has a long history of doing business in Rochdale, Jake initially thought about starting up Alternate States in Manchester, where a couple of more limited VR gaming arcades already exist. But in the end, Rochdale's benefits outweighed the lure of a large city.
Jake says: "The costs are much lower in Rochdale and Manchester is so close anyway. Castleton is just a 15 minute train ride away from the city centre. And we ended up in a beautiful building - the old library - that would have been way out of our reach in Manchester."
Jake believes Rochdale is the perfect testing ground for what he hopes will eventually become the Alternate States chain, and his research has made him almost as evangelical about the town as his dad. Both father and son are now Rochdale Ambassadors, a scheme that uses the experience and enthusiasm of local business people to promote the town to the wider North West region and beyond.
"There's a great atmosphere here, a real spirit of cooperation," says Steve. "Everybody wants everybody else to succeed. We all want to tell a good story about Rochdale and there's a very positive story to tell."
For the White family, business is booming in Rochdale.