Wane's world comes to Rochdale
Posted by on 17 Jun 2021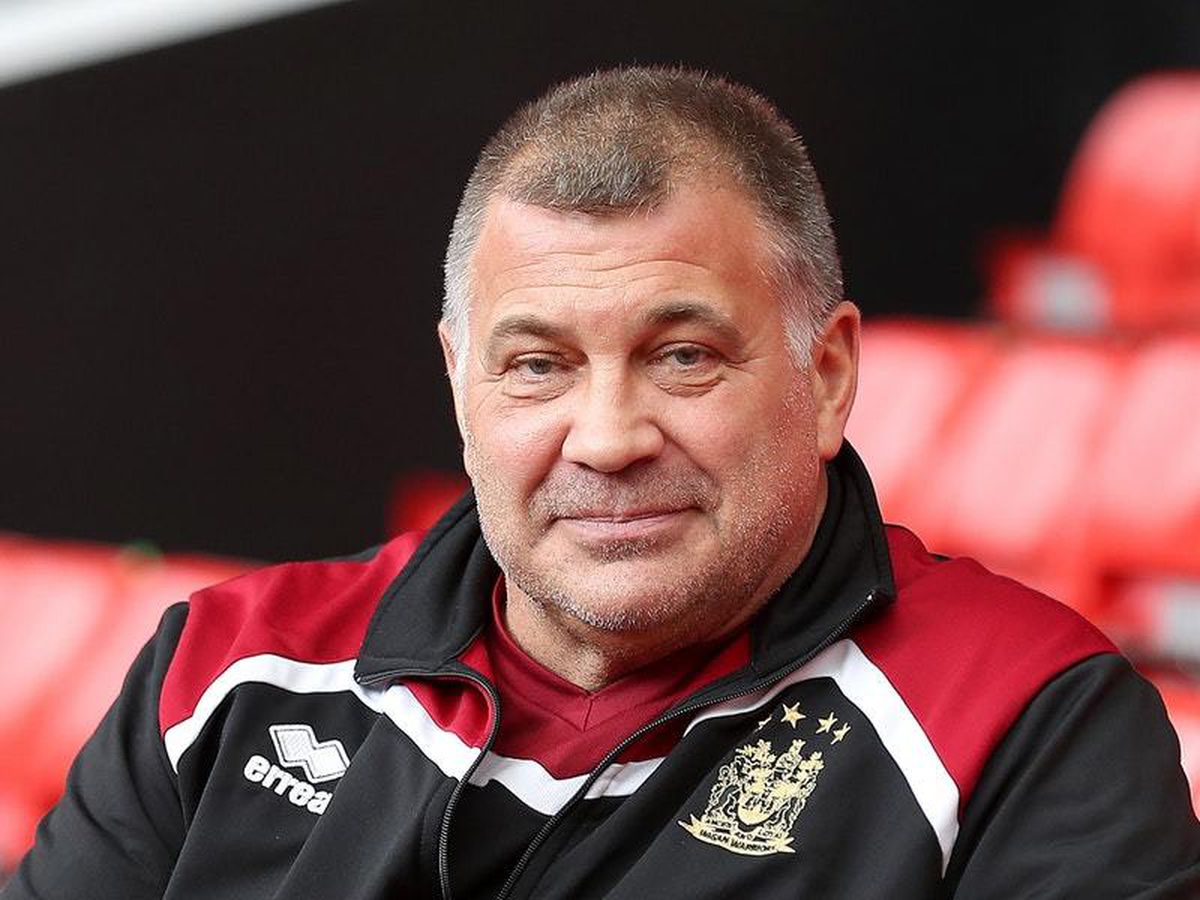 England Rugby League coach Shaun Wane was the star of the latest Rochdale Ambassadors event. A 100-strong audience tuned in for the virtual event, entitled 'Rugby League World Cup comes to Rochdale'.
Wane brings his England team to Rochdale on October 15th to play Fiji as preparation for the World Cup and to mark the 150th anniversary of Rochdale Hornets.
The coach joined Paul Dixon, chair of This is Rochdale; Steve Rumbelow, CEO of Rochdale Borough Council; Steve Kerr, CEO of Rochdale Hornets; and Andy Mazey, chairman of Rochdale Hornets, and spoke about how his tough upbringing shaped his life and his glittering coaching career.
The 56-year-old is in demand as a motivational speaker and he started by speaking movingly about his tough childhood at the hands of his father.
Childhood
"I was really badly behaved and I was getting in trouble, I wasn't going to school and I was fighting a lot. I was doing some terrible things which I'm embarrassed about now, but that was the way the world was where I lived. It was a tough council estate.
"I was one of six kids, five boys and a girl, and me and one brother got in trouble quite a bit. My Dad's way of dealing with it was an horrendous beating every now and again. We never learned our lesson.
"The big turning point was when I was 15. I rang in a bomb care to my school and the police arrested me. "My Dad absolutely annihilated me and I ran off, left home and I never went back.
"I was locked in the same room and for 20 minutes my Dad just punched and kicked me. My only memory was of my Mum and brothers banging on the door telling him to stop. That would happen every week. I would do something wrong and never learned my lesson. It was just repeated.
"I don't remember any Christmas Days. This is not feel pity. I remember leaving home when I was 15 with blood on my face, my T-shirt ripped off, one trainer on and I got to the top of my street and I realised I had nowhere to go.
"I'd met a girl on one of the days I went to school when I was 14 and went to her house and knocked on her door. She was shocked because of all the blood on my face. I asked if I could stay for one night because I had nowhere to sleep and I stayed for six years.
"I remember walking in her house and it was warm. Our house was cold. I had my own bed, at home I'd slept in a bed with two of my brothers. We never had food in our house, I thought 'this is strange, this is not normal'. Little did I realise it was me that was not normal. Things picked up for me. I signed for Wigan the year after and made my debut. We got married at 21 and next month we'll have been l married for 35 years. All that stuff I went through as a kid made me a better Dad myself.
"On my 17th birthday I made my debut for Wigan. I really can't put it into words how far it was away from the things I did when I was younger. It was like impossible that I would end up playing for Wigan on my 17th birthday."
Choices
"When I was 15 or 16 I had a choice. I'm very much into stoicism. Bad things happen to people. A lot of my friends from where I was born are still in trouble now. Some are 56 and in prison. I had a choice, be different and do something else, or else feel sorry for myself and make an excuse for the rest of my life for the way my Dad treated me. Rugby league has given me everything I have."
Working two jobs
"I was working for Tarmac and getting paid £2k a year for coaching the juniors. For 10 years my day would start with getting into Manchester at 6am on the sites and doing my visits. At dinnertime I'd get my laptop out and do clips from the games because I didn't have an analyst then. That wasn't an excuse for not giving my players what they needed. I'd do my job in the afternoon, wash the kit and then coach the players. I'd get home at 10.30pm-11pm and have tea with my wife. I'd then do some clips of training on my own. I was obsessed with the coaching. I knew I could make a difference as a coach but I also wanted to sell more concrete than anyone else."
What business can learn from sport
"Make the complicated really simple. People love to talk complicated (but) drill down to do the simple things you know. I have a pyramid. In a sporting organisation at the top is winning grand finals but put your standards, your culture, your DNA of what you're about in the foundations. Do them first and do the simple things really well.
"What I've done over my career is make people over perform. If I pay someone £50k, how do I make them perform at £70k? If we have someone performing at £30k we have a problem. How do I fix it? That means coaching them and showing what perfect looks like.
"Whether you're a business organisation or a sporting organisation, it's the same thing. You coach people, you tell people what you want and you're very clear. You make sure they can do what they want. You get them to overperform. Once you get a lot of people over performing in my world you win world cups and grand finals. In the business world you make big profits.
"I have to be honest, when I've been into businesses there's a lack of coaching, a lack of working with people. Do they know what perfect looks like and have they got the tools to do it?"
Tell everybody everything
In 1990 Wane was told by Wigan that he was being sold against his wishes to Leeds because the coach didn't rate him. "I was wounded. Why didn't he tell me this six months ago so whatever he doesn't like about my game I could change? I always thought if I end up coaching I'm going to tell everybody everything. Don't use information as a weapon. Tell everybody everything. We have a duty of care to work with people to improve them and make them better."
Importance of good manners
"When we get off a coach that coach is clean. We had a kitman who was 120! He was the fabric of the club. He was an old man but it was his life. Before I got the coach's job I saw players drop their shorts on the floor after the game and the kitman was picking them up. When I got the job I said to the players that I can deal with losing 60-0 but you put your shorts in the kit bag or hand them to the kitman. They're the standards. When it comes to the games the most important thing to me is winning and that's what the players want but when they come off the field I want them to be well mannered and respectful. I expect them to thank hotel receptionists when they're given the room key. I was relentless from day one."
Being the England Rugby League coach
"I'm a very, very proud Wiganer. I'm a very proud Englishman. I'm very patriotic. I love our country. When I got the phone call to say 'We want you to be the head coach of England' I thought back to when I was 12 and how did this happen that I'm the head coach of our country? To get this job was a dream.
"I love pressure. Since I gave up the head coach's job at Wigan I've missed the pressure of winning games, that nervousness of a must-win game and preparing my team."
Playing in Rochdale on October 15 against Fiji
"It's ok us playing at Newcastle and Arsenal. They're great grounds but they're football grounds. Rochdale is a proper rugby league town. Rochdale Hornets are 150 years old. It really rocked my boat that we've got a game at a proper rugby league town.
Can England win the Rugby League World Cup?
"Absolutely. No question."
The full Ambassadors event can be watched here