Video showcases Rochdale's 'hidden gem' Town Centre
Posted by on 11 Aug 2020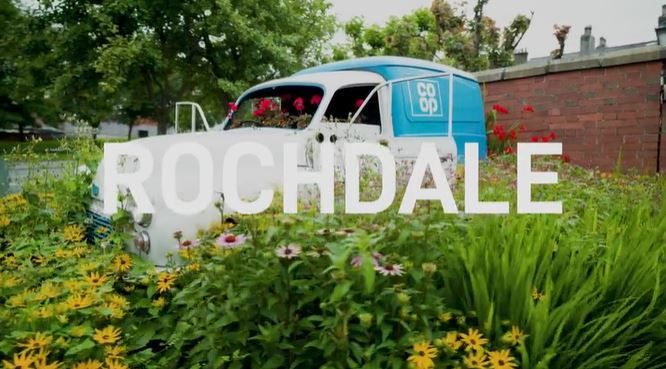 A video showcasing Rochdale has been produced aimed at attracting visitors to the new-look town centre.
Proud Rochdalian, historian and author Jonathan Schofield hosts the five-minute video - https://investinrochdale.co.uk/tv/watch/welcome-to-rochdale - which takes viewers through a whistle-stop tour of Rochdale through the ages.
Starting with a trip to the Rochdale Pioneers Museum, which is regarded as the birthplace of the modern co-operative movement, it also includes stops at Buckley Menswear and The Medicine Tap, which is located in the Grade II listed Old Post Office building.
It then continues to the famous Touchstones Rochdale, which forms part of the Central Library, Museum and Art Gallery and dates back to 1844 and onto Rochdale Town Hall, which is widely regarded as one of the finest Victorian town halls in Britain.
The video ends with a look at the £80m Rochdale Riverside retail and leisure destination and Number One Riverside, which is the permanent home of the council and Rochdale Development Agency and the temporary home of the Dippy the Dinosaur exhibition, which attracted 115, 000 visitors in its first five weeks.
The video was commissioned by the RDA to help attract people from across Greater Manchester to the town centre.
RDA Board Member Steve Kuncewicz said: "I'm very proud of my Rochdale roots, and the town centre is almost unrecognisable from the one I visited during my childhood. It's always had history and heritage but now has an impressive retail and leisure offer and first-class public transport links. We've introduced a lot of safety measures in response to Covid-19 and the purpose of the video is to remind people of the hidden gem we have in Rochdale town centre, let them know that it's as safe as we can make it and getting the message out that we're very much open for business."
The video comes a week after the launch of a new initiative that will transform 21 Baillie Street into a giant artwork to boost town centre footfall.
The film and art project are also part of Marketing Manchester's #Find your space campaign to achieve greater reach across the region.