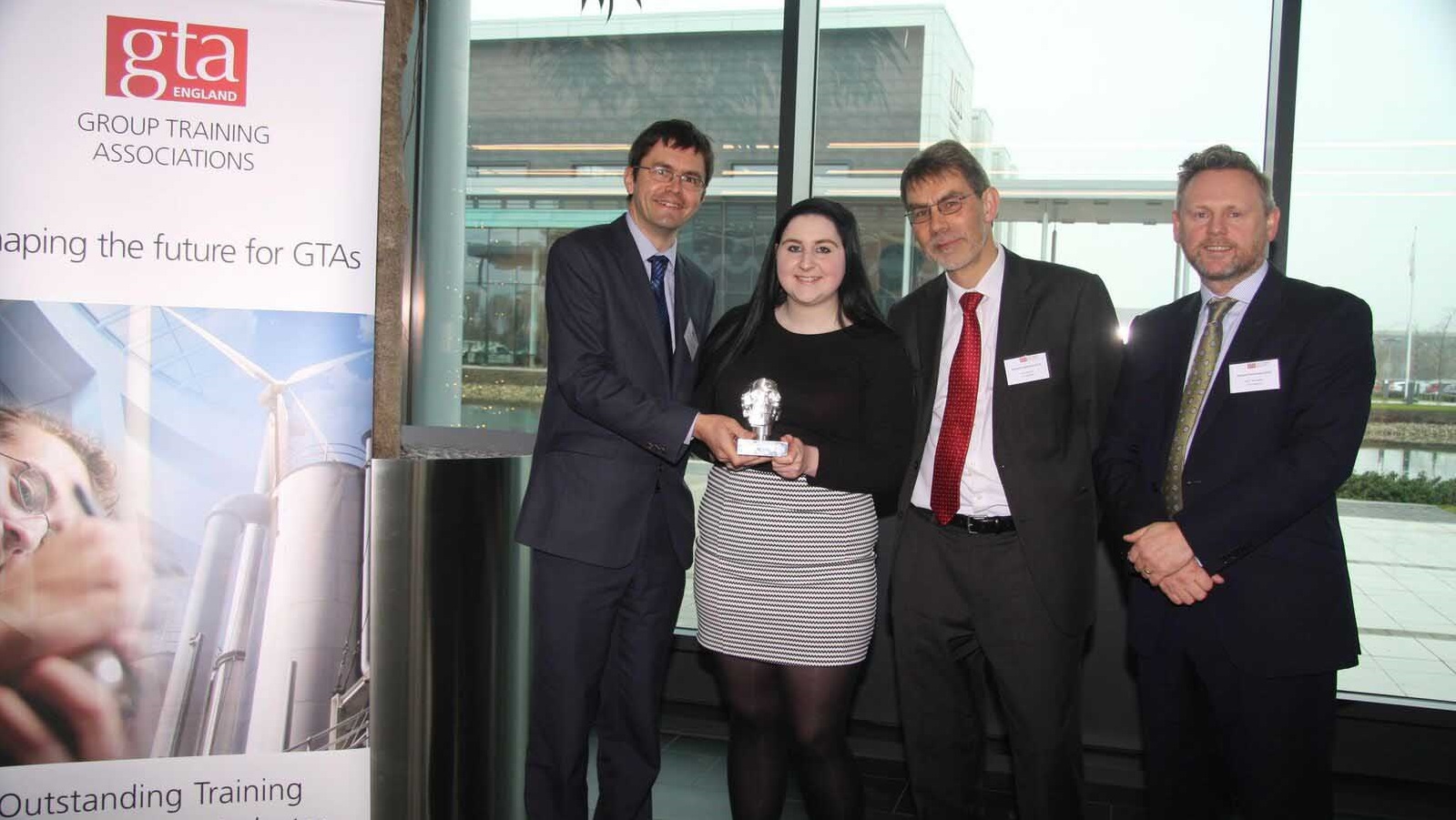 TBA PROTECTIVE TECHNOLOGIES APPRENTICE WINS A HAT-TRICK OF AWARDS
Posted by on 11 Jan 2017
TBA Protective Technologies (TBA-PT) has been celebrating the successes of its Sales and Marketing Apprentice. After being awarded Apprentice of the Year at both the Rochdale Business Awards and Rochdale Training's annual awards, Carla Heaney was also declared Group Training Association England (GTA) Business Apprentice of the Year 2016.

Carla began working at TBA-PT in March 2015 and is now coming to the end of her Level 3 Business and Administration Apprenticeship. After spending time in all departments within the business, she discovered her strengths and interests were most suited to the sales department. It was here that her creativity, flexibility and accurate planning skills thrived and developed, enabling her to win new sales orders and to quickly become a valuable member of the team. This has led to her being employed full-time by the company and she is now responsible for managing its Australian sales, in addition to key clients in Europe and the UK.

Carla is also an Apprentice Ambassador for Rochdale Training and has been promoting the benefits of apprenticeships to the local community through her involvement in projects such as the TBA-PT Manufacturing Matters Competition. During the competition, which challenged three local schools to develop an idea for a product and create corresponding business plans, she acted as a mentor for the participating school teams. She offered guidance for their pitch and answered questions about working in the manufacturing industry.

Mark Lineker, General Manager at TBA-PT, commented:
"We are incredibly proud of Carla and her achievements in the last 18 months. She represents just how successful and rewarding both apprenticeship schemes and working within the manufacturing industry can be. TBA-PT has always been passionate about maintaining excellence in British manufacturing, particularly by engaging the next generation, so to see this celebrated on regional and national scales is fantastic."

TBA-PT is further supporting its dedication to sustaining British manufacturing in its long-term business plans. It is set to invest £700,000 into its manufacturing plant in Rochdale over the next two years, allowing the company to bring the production and testing it previously outsourced to the Netherlands back to the UK. Plans include creating a cutting-edge facility on their factory site to house new machinery and testing areas to further develop their production of high performance fabrics.