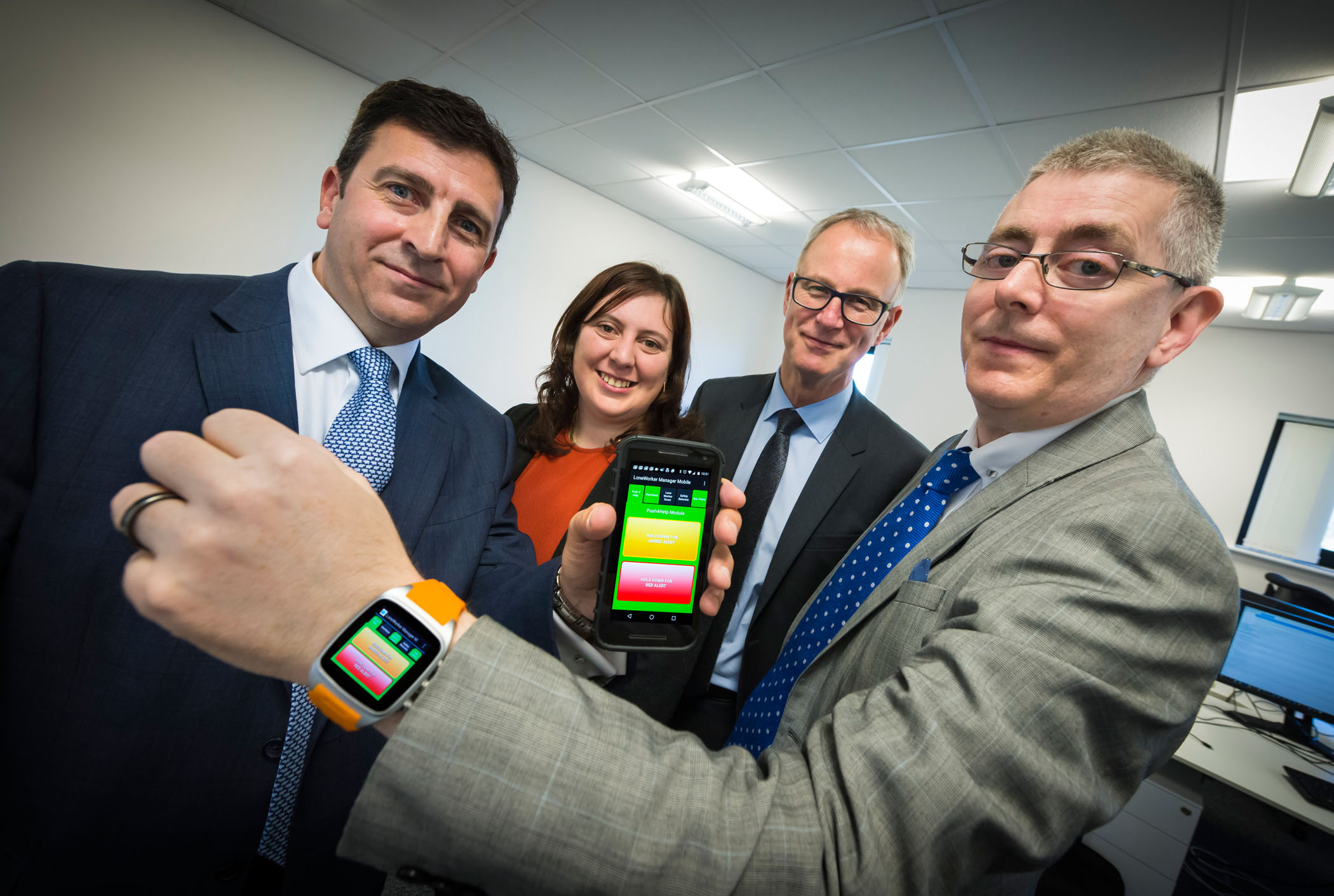 Safe bet: company which leads the way in worker safety completes move into Rochdale
Posted by Aahmed on 13 May 2016 at 16:05
A company which provides technology to help keep lone workers safe is planning to expand and create new jobs following its recent move into Rochdale.

Lone Worker Solutions, which has just set up its new base in the Crown Business Park in Castleton following a move from Bury, describes itself as one of the UK's leading companies providing technology to help people who work alone.

The company, which has just secured a contract with the biggest utility company in America, American Water, has developed an online platform from which workers can download safety applications to their phones or other devices, which help them stay safe when they're working on their own, often in remote locations.

The company was looking for new premises to help it grow and meet an increasing demand for its services. It was given advice and support by the council and Rochdale Development Agency, who helped to source the right building and location for the burgeoning business. After months of negotiations, the firm decided that Rochdale's excellent transport links and ambitious plans for growth made it the ideal place to relocate to.

Managing Director, George Stavrinidis, said: "We really wanted a location which would be easy for all our staff to access and we just fell in love with this unit. The RDA and council were really helpful throughout the process and it was very straightforward.

"It's a really exciting time for us. We are currently applying for an international patent on our latest piece of technology and we've just secured this huge contract with American Water. We already employ 14 people and we'll definitely be looking to employ more people in the future, to help us meet the increasing demand for our services."

As well as American Water, which supplies 15 million people across 47 states, the company also has contracts with Network Rail, Vodafone, Siemens, Northumbrian Water and, closer to home, RBH.

Safety applications available on the company's online platform include one which sends an alarm if the worker is injured or in danger, which will prompt the system to use GPS tracking to identify their location and send help.

Another application available on the platform allows workers to organise for a text, voice or email message to be sent to them at regular intervals, which requests them to key in a special code to indicate that they're okay.

Steve Rumbelow, Chief Executive of Rochdale Borough Council, said: "With excellent transport links, an abundance of top quality premises, a business friendly council and one of the fastest broadband speeds in the country, Rochdale is the most enterprising borough in Greater Manchester.

"I'm really pleased to welcome a company that's leading its field and securing major contracts around the world. It's clear that they will continue to thrive here in Rochdale and create great job opportunities for our residents."

Business which are interested in relocating to Rochdale or expanding within the borough are asked to contact Carol Hopkins on carol.hopkins@investinrochdale.co.uk or 01706 924886.