Rochdale start-up wins 75 new customers after move
Posted by on 21 Sep 2021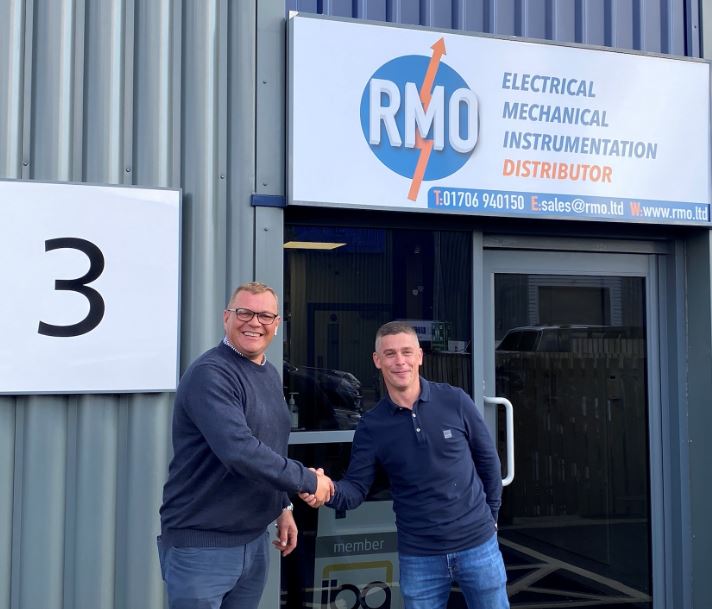 Photo © . L-R Ryan Hopley, director, RMO and Richard Bennett, director, D&G Utilities
A Rochdale business has won more than 75 new customers since moving into new state-of-the-art premises. Repair Maintenance & Overhaul (RMO) only celebrated its third anniversary in September but is on course to achieve record turnover of £6.5m this year, with half coming from its Rochdale operation.
In March, 2021, RMO moved into a 6,488 sq ft unit on the Logic development at Kingsway Business Park and managing director Ryan Hopley described the move as 'transformational'.
He said: "It's been amazing and our new base has been a massive part in our success. Moving into such a great location as Logic has really raised our profile.
"We've opened 75 new accounts since we moved and the vast majority of them have been local. Rochdale businesses have really got behind us and the Rochdale Development Agency has been very supportive."
The company has just agreed a 12-month supply chain deal with D&G Utilities, which is also based on the Logic development. RMO is an electrical mechanical and instrumentation distributor and supplies multiple sectors including oil and gas, construction, rail, water, utilities and food production. The company started life in Harriett Street, Rochdale, but moved to Logic to meet demand.
It also has offices in Grimsby, Liverpool and Teeside, employing a total of 30 people across the group. Mr Hopley predicted RMO would grow to £9m turnover next year and £12m in 2023, with Rochdale responsible for £6m.
Since moving into Logic has expanded its workforce in Rochdale from eight staff to 12, with plans for more recruitment. Mr Hopley said: "Our success is good for Rochdale because we've employed more local people and that's good for the economy.
"Having great people and the service levels we provide to our customers are the reason for our success. We do what it says on the tin. "We're blessed with great connectivity at Logic and there's a feelgood factor in Rochdale. It's just great to be a part of that."
Councillor John Blundell, cabinet member for regeneration, business, skills and employment at Rochdale Borough Council; "It's great to see a firm such as RMO doing so well in Rochdale, I'm delighted that so many local people are employed by them. Logic has been a great success with so many great companies here."