Returning to work roundtable
Posted by on 22 May 2020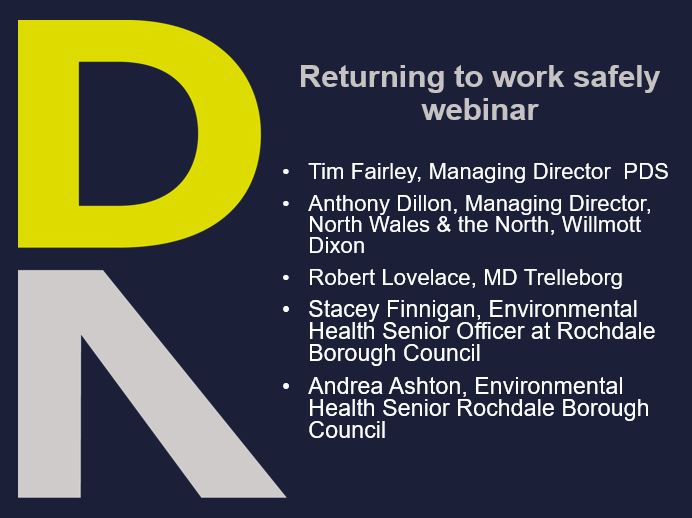 The full video can be viewed here
Business leaders and health and safety experts gave practical advice for Rochdale firms considering a return to work
It's widely accepted that businesses have to start returning to work, and that the quicker they do the shorter and shallower any Covid-related lockdown will be.
But while the initial outbreak has peaked, the virus is still around. A treatment or vaccine is months - possibly years - away. We are entering a period when individuals and businesses will have to learn to live with the virus, while mitigating risks as much as possible.
How that might be accomplished, and how companies can get back to business quickly and safely, was the subject of the latest Rochdale Development Agency (RDA) roundtable.
Workforce management
Despite a gradual reduction in infection rates, health experts warn that the virus could peak again if social distancing is not maintained. That is a challenge for businesses. How do you ramp up productivity while keeping employees physically apart?
Advanced material manufacturer Trelleborg employs 67 people in three shifts. It has been working throughout lockdown. Managing director Rob Lovelace says the key to safe working is to put policies in place that help staff avoid all unnecessary interaction.
At Trelleborg the shop floor is divided into two sections, and staff from each section keep to their own area. In addition, a half hour safe transition period between shifts keeps employees apart. Toilet blocks have been arranged so that employees don't have to mix with other teams on comfort breaks.
"The goal is that no employee has to have contact beyond their immediate team," says Rob.
Anthony Dillon, managing director for North Wales and the North at construction company Willmott Dixon, says breaks and lunchtimes need to be considered too.
His company has erected marquees on several sites to increase the space available to employees at these times, so they can maintain social distancing. Staggered break and lunchtimes are also an option where space is tight.
Tim Fairley, managing director of door and window manufacturer PDS, stresses the importance of signage. It's easy for employees who are focused on the job to forget the two-metre distance rule or ignore new one way corridors or staircases. Clear signage can help.
Visitors, customers and contractors
While staff will quickly get used to new workspace layouts and working patterns, visitors and contractors will need special consideration.
Tim says that the boardroom at PDS has been marked out to ensure social distancing when visitors are on site. The company has instigated common sense protocols that are followed from the moment a visitor rings the buzzer - the front door is kept locked - to the moment they step back outside.
It is potentially trickier in situations where contractors are working on site. Rob says that, at Trelleborg, a risk assessment is carried out in conjunction with contracting partners, and that workers fill out a pre-agreed health form.
Andrea Ashton, Environmental Health Senior t Rochdale Borough Council, agrees that all businesses need to go back to health and safety basics, and risk assessments are crucial. But the first question to ask is whether a visit needs to happen at all.
Anthony says Willmott Dixon, like many firms, has been replacing face-to-face meetings with video conferencing. But he also says technology can help in other ways. His own company has been experimenting with 360 degree and GoPro cameras to record construction progress for customers.
"It not only stops customers having to come on site, but they also really like it," he says. "These are efficiency benefits that will last beyond the current pandemic."
Where goods in and out are concerned, simple protocols make all the difference. Tim says that delivery drivers ring a bell and then retreat to a safe distance, while his own drivers are equipped with sanitiser, masks and gloves, and have a written procedure to follow when making drops.
Cleaning and face masks
After social distancing, the best protection against the spread of infection is cleaning. To that end, Rob says Trelleborg has doubled the number of cleaning staff and that each has been given their own sector, so they maintain physical distance.
Tim adds that all staff (not just cleaners) should be asked to take responsibility for keeping machinery and surfaces clean. PDS has implemented an internal rota, ensuring that everything from door handles to desk surfaces are cleaned regularly. Particular attention is paid to machinery and equipment that is used by more than one employee.
It goes without saying that cleaner workplaces reduce the risk of infection. But the benefits are wider than that, says Rob. "There's a psychological element too. Staff see that things are being regularly cleaned and are reassured. It gives them confidence to be at work."
Stacey Finnigan, Environmental Health Senior Officer at Rochdale Borough Council, adds that staff should make sure they read the details on cleaning products before using them. Contact times differ with the chemicals used, and instructions must be followed.
And personal hygiene is, of course, essential. Staff should be encouraged to wash hands regularly.
In all three businesses, the wearing of face masks or visors is not mandatory for Covid-19 unless employees have to work less than two metres apart. "In other areas masks are optional, but we will supply up to two masks a day for staff who want them," says Tim.
Andrea agrees that, while social distancing measures are essential, the provision of face coverings is a matter for individual businesses.
Returning to work
For all three businesses at the roundtable, returning to work - or working through lockdown - has been challenging. But it is a challenge they have successfully met by following guidelines and implementing systems and protocols that are mostly common sense.
For businesses that are now considering reopening, Rob recommends a staged return, and says that staff who can work from home should continue to do so. That way the company's resources and energy can be focused on the safety of staff that have to be at work.
It's also important to have honest and open communication with employees, he says. Firms should publish risk assessments and talk to staff about new ways of working - and their own responsibilities - before they return to work.
Anthony agrees, and adds that management should also be open to suggestions from workers about ways to keep sites and premises safe. "It's been heartening to see the ingenuity and innovation of our people," he says. "Give them the opportunity and employees will come up with clever, safe ways to manage the situation."
Tim also advocates a holistic approach. Employers have to do whatever they can to mitigate risk, but people returning to work should also be asked to take responsibility for looking after their own health and the health of their colleagues. When everybody works together, returning to work is a safer, smoother and more positive experience for everyone concerned.