Precision engineering guru says AMPI project will transform Rochdale
Posted by on 22 Mar 2021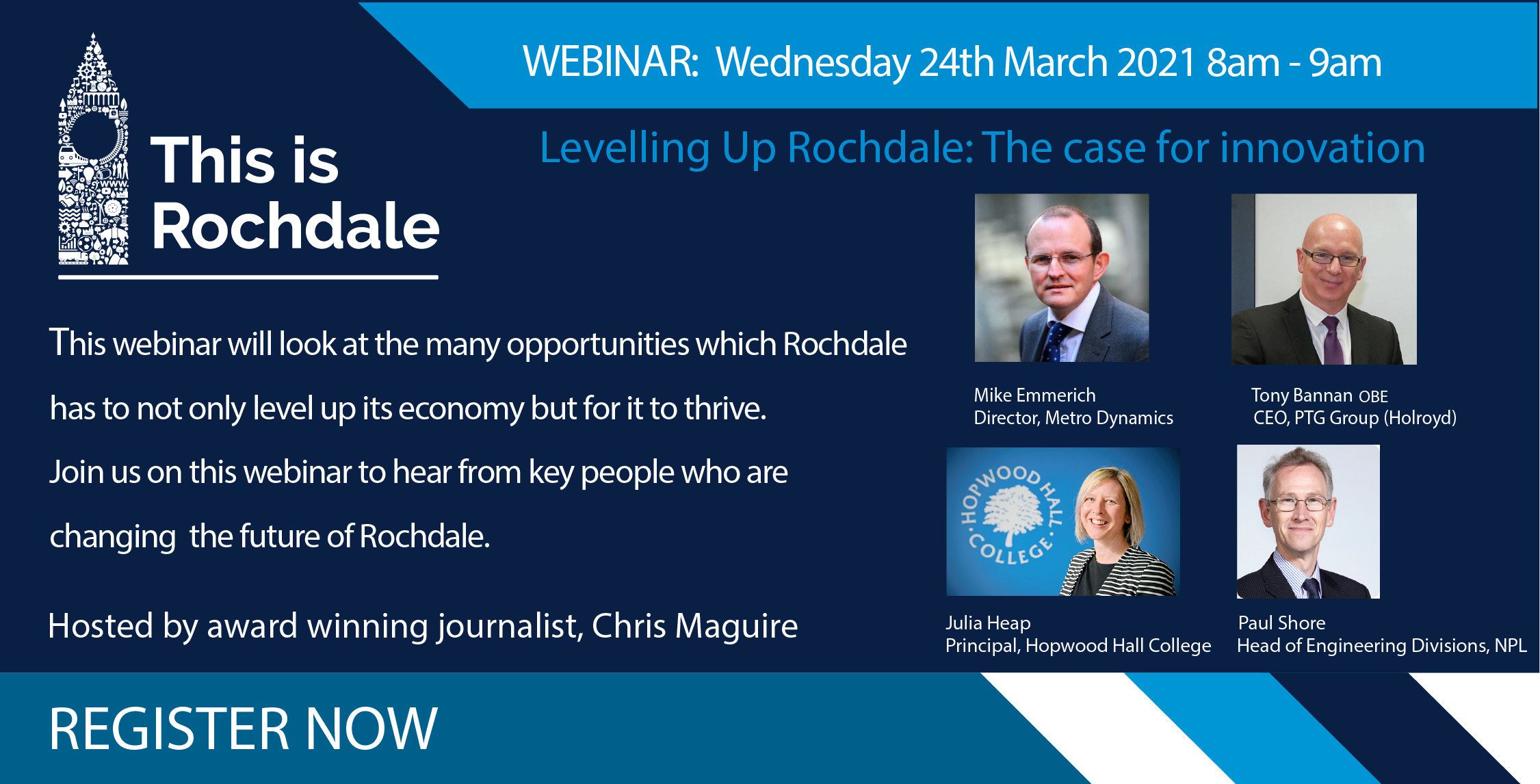 Paul Shore has come a long way since leaving school at the age of 15 with one O Level in commercial arithmetic.
Today he's one of the world's most acclaimed names in precision engineering and is the Head of Engineering at the UK's National Physical Laboratory and founding Director of the UK's Machine tool company, Loxham Precision.
He's also one of the key figures behind the planned Advanced Machinery and Productivity Institute (AMPI), which he thinks can be a 'game-changer' for Rochdale. He'll be speaking at the next Rochdale Ambassadors event on March 24th -'Levelling up: the case for innovation in Rochdale' – and will be joined by Tony Bannan, CEO of Precision Technologies Group; Mike Emmerich, founding director of Metro Dynamics; and Julia Heap, principal and CEO of Hopwood Hall College.
The planned AMPI project has just taken a huge step forward after Rochdale was awarded £23.6m from the government's Towns Fund.Paul Shore has been one of the driving forces behind AMPI but it's a far cry from his early life when he left Stanney Comprehensive School in Ellesmere Port with one O Level.
"When I was 15 I was more interested in rebuilding motorbike engines to compete in the Isle of Man TT than going to school," he said. "I did what every parent dreads. I went to school and messed about. After school I got incredibly lucky in securing an apprenticeship at a Cheshire-based machine tool company, my career went well from there on. "As part of my apprenticeship my boss sent me to Liverpool Polytechnic to get a HND in mechanical engineering. I then went to the Cranfield Institute of Technology to get a Masters and PhD.
"After that I worked in Sweden becoming technical director of Sweden's biggest machine tool company, part of the SKF Group. I returned to the UK as a professor at Cranfield, set up some spin-outs, taught at Massachusetts Institute of Technology (MIT) before moving to the UK's National Physical Laboratory."
Now 58, Paul is one of the most respected voices in the world of precision engineering and is passionate about supporting the machinery manufacturing industry – which is where the idea for AMPI came from.
He said: "When you pick up your iPhone what do you see? I see an amazing product that's produced by incredibly sophisticated machinery. Often people don't appreciate the production machinery is what makes these products huge wealth generators. Machine tools produce pretty much everything, and Rochdale has a rich and long history of producing machinery."
The idea for AMPI came after he found a kindred spirit in Tony Bannan, who is the CEO of Rochdale-based Precision Technologies Group, which manufactures specialist CNC machine tools and components.
"We were both grumbling about the lack of support for the UK machine tool industry," he recalled. "We both thought it was glaringly obvious that we should have a machinery focused innovation centre.
"There are lots of high quality innovation centres in the UK but nothing focussed on machinery manufacturing. That's where the idea for an industry-led AMPI was born in 2017.
"We're trying to move to a place where the UK has a machinery manufacturing segment that is appropriate to the size of the country," he said. "At the moment it's a quarter of the size of Switzerland's. It's worse than poor.
"Why don't we try and make the best quality machinery ourselves? That will improve our productivity and UK balance of trade. Of course it can be debated, but Rochdale is pretty much the centre of gravity location of the UK's machinery manufacturing sector.
"Growing this sector from an AMPI located in Rochdale will be good for the region, the national economy, and perhaps most of all in creating our next generation of engineers."

Register here for the 'Levelling up: the case for innovation in Rochdale' event