On the right track: company behind restored Flying Scotsman rolls into Rochdale
Posted by on 31 Oct 2016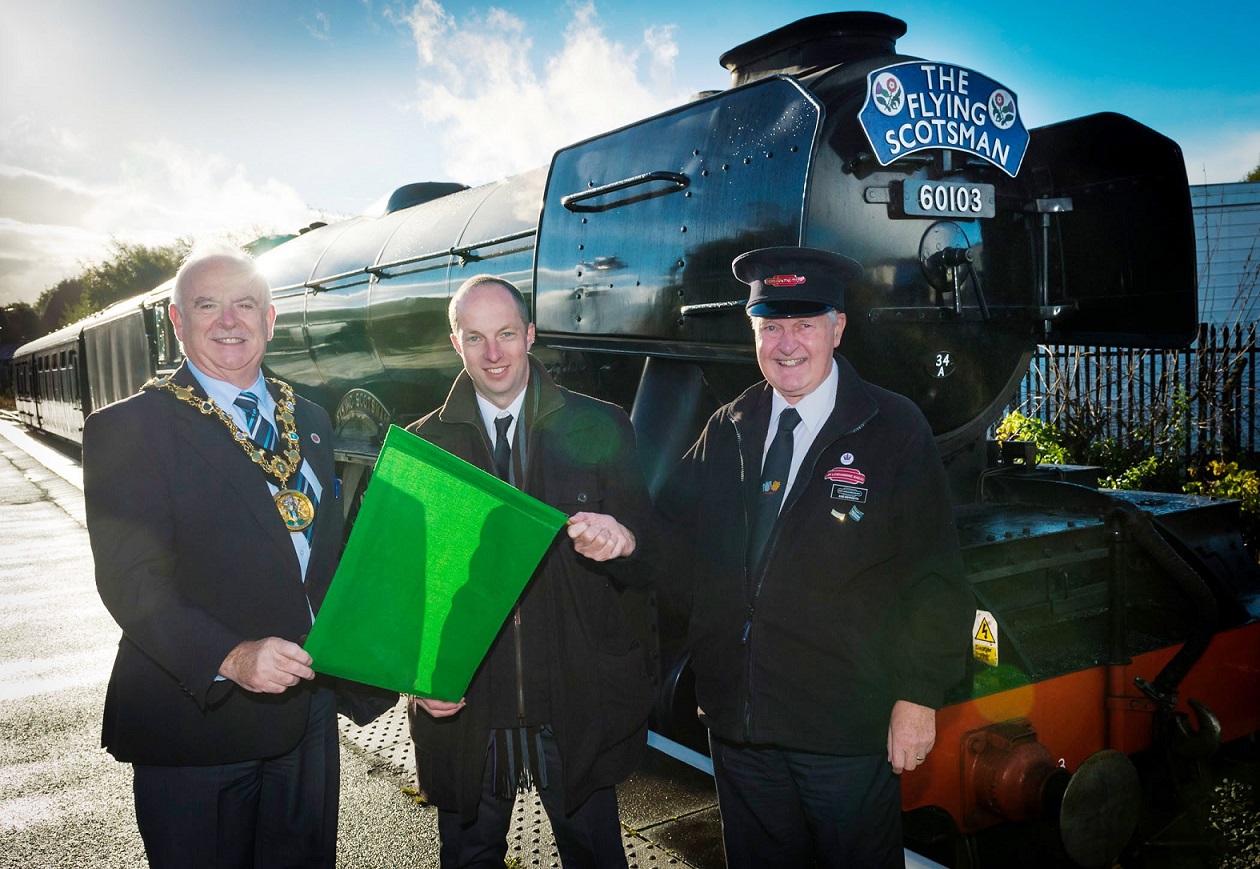 It's full steam ahead for the revival of Rochdale's great industrial tradition, with Riley & Son (E) Ltd, the company behind the restoration of the Flying Scotsman, moving into the borough.
Riley's spent ten years restoring the iconic locomotive, which was the first steam train to hit speeds of 100mph back in 1929, before it returned to the rails at the beginning of this year, and it continues to regularly operate and inspect the famous engine. It also looks after its own fleet of Black 5 steam engines, which travel on a number of national railway network lines, including the Fort William to Mallaig Line where Harry Potter was filmed.
Now the company has returned to Heywood, where it originally started out back in 1988, after receiving a grant from the council.
Colin Green, director at Riley & Son, said: "We moved into Rochdale very recently, primarily because of all the support we were given by the council, who were enthusiastic from the off. It's the first time in our history we've ever received a grant and it's enabled us to buy new cranes which have transformed our operation.
"Rochdale is a great hub. It was at the heart of the industrial revolution, so bringing the old fashioned engineering tradition back here where it all began makes perfect sense."
Since the move into Sefton Street, next to Heywood station on the East Lancashire Railway, Riley's has taken on four new members of staff and ten apprentices from Hopwood Hall College are also learning their craft there.
And the company is already plotting its next move, with plans to expand into the 6,000 square feet unit next door.
Colin added: "By moving into the unit next door, we can diversify our operation and produce components for more modern trains. We are also looking to potentially transform the currently unused land between our new base and the East Lancs railway by building a depot on it, which will directly link our building with the line. We've got more potential than we've ever had now. Engineering is in decline in England, but Rochdale Council has helped us bring this important tradition back to their borough and give it a modern edge."
Hopwood Hall College Apprentice, Cameron Greenan (19), said: "I have a passion for steam engines. Finding a problem, fixing it and then seeing the end result, a train trundling along the track at 75mph pulling 500 people behind it, is quite something. This apprenticeship is a fantastic opportunity for me. I'll be a qualified engineer by the end of it."
Mayor of Rochdale, Councillor Ray Dutton, said: "It's great to see Riley's back home right next to the East Lancashire Railway, which is a fantastic asset for our borough. The Flying Scotsman is known and loved across the country and I'm proud to say the company which keeps this icon on the rails is right here in Rochdale. With help from the council, Riley's is giving young people opportunities for a great career and to be at the cutting edge of a fantastic industry."
Anyone interested in investing in Rochdale or expanding their business in the borough can contact info@investinrochdale.co.uk or 01706 868999.