Metals business set for £10m turnover with new building
Posted by on 24 Jan 2020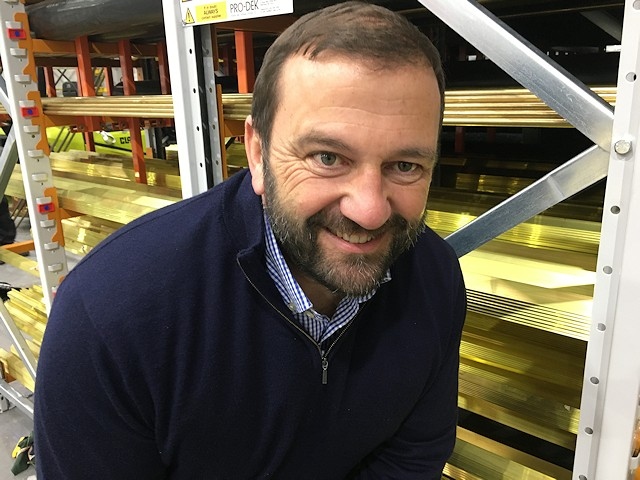 A metals business is planning to double turnover to £10m in three years after moving into a 24,000 sq ft warehouse in Rochdale.
Bornmore (Metals), which celebrates its 40th anniversary this year, has taken a unit at Broadfield Business Park in Heywood which is six times the size of its previous base in Bury.
Managing director Ian Griffiths, who acquired the business in April 2019, said: "We needed space to grow and we needed to present ourselves as our customers would expect, which Bury didn't because of its size."
The business has already invested £250,000 in the move with a similar sum planned for later this year.
Bornmore are specialists in brass copper, bronze and stainless steel, supplying the architectural metalwork industry. Customers include pub chain Wetherspoons and exclusive restaurant The Ivy.
"If you go into traditional-type pubs now you will put your foot on the foot rail and there's a good chance that will come from us," said the 51-year-old entrepreneur. "Brass is actually quite fashionable at the moment."
Since buying the business eight months ago turnover has increased by around 25 per cent to £5m with profits topping £1m.
"I view it as a kind of an unpolished gem," he said. "Rochdale Development Agency helped us a lot. We had a couple of options for a site. The RDA convinced us this was the right move and gave us a lot of assistance with the move.
"We've got 2,500 sq ft of offices and 22,000 sq ft of warehouse space on a 10-year lease."
Bornmore currently employ 16 people but Griffiths predicts this will grow to 25.
The businessman has worked in the steel industry since he was 16 and previously sold his £35m turnover, Blackburn-based Metals UK Ltd to Chicago firm Castle Metals in 2007 for an undisclosed sum.
"Now we've got the room to expand and with the investments we're making it will give us the ability to keep more inventory we think that £10m turnover is on the horizon in three or four years," said Mr Griffiths.
"We were bursting at the seams at base in Bury and that was stifling our growth. As well as being bigger our new site is close to the motorway network, it's secure, we've got a large gated yard which we can use as we grow, we've got security around the clock and CCTV cameras.
"The investment in upgrading the facility will enable us to increase our efficiency and make sure that we can offer the quality of work into the future."
Mr Griffiths said the company's success was down to its longevity and customer service. "Virtually all of our customers can call us before 5pm on any day and we'll deliver the material to them nationwide the next day," he said
"Moving forward we certainly want more people to be able to find us rather than relying on word of mouth. Over that growth we want to be known as the number one metal service centre, particularly for the architectural metalwork industry."