Mayor Andy Burnham praises Rochdale's regeneration during visit to the town
Posted by on 26 Mar 2018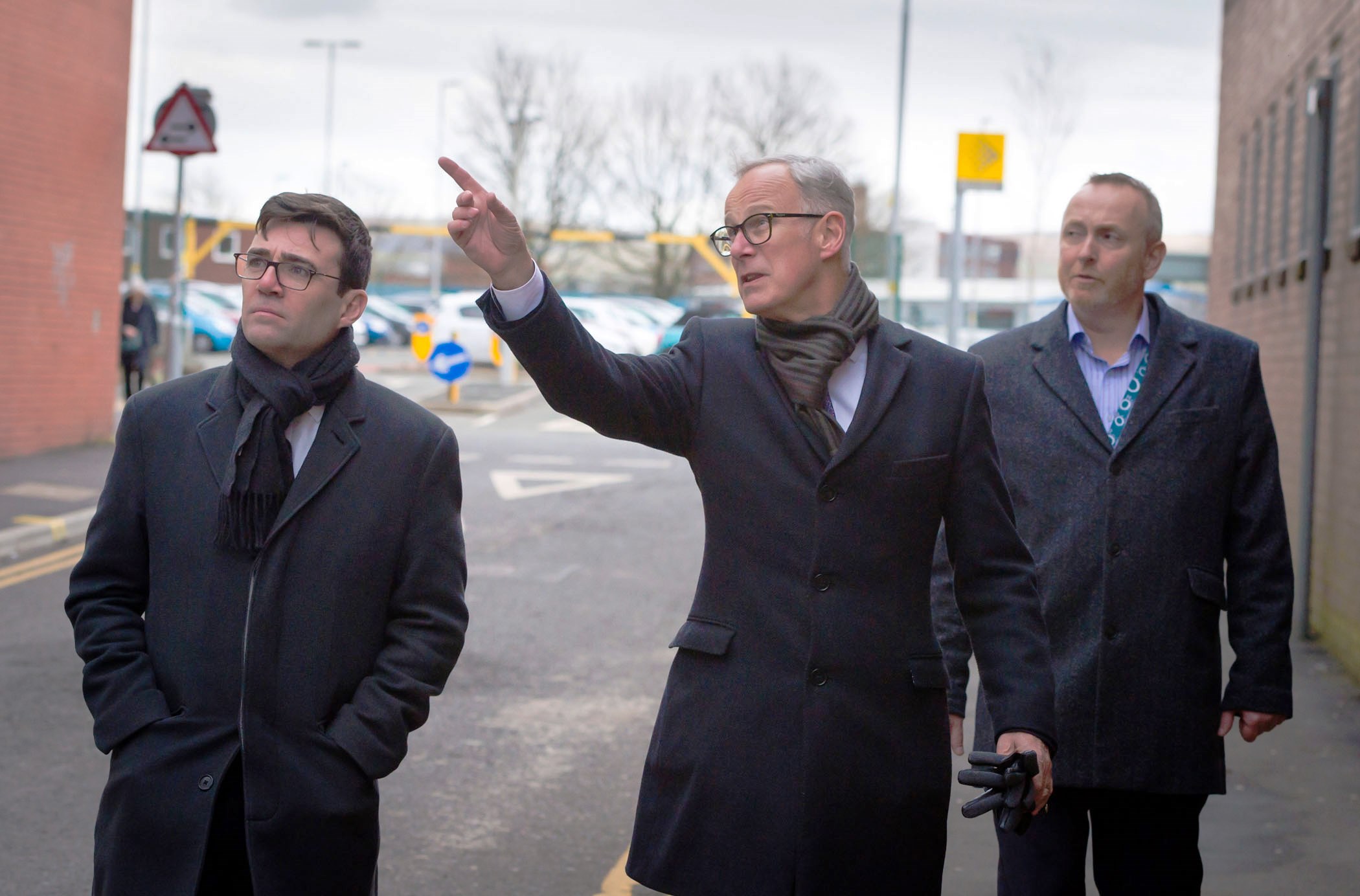 The Mayor of Greater Manchester, Andy Burnham, has praised Rochdale's £250m regeneration and pledged to support the borough as the council looks to add a residential offer to its major town centre project.
Mr Burnham also lauded council plans to improve Rochdale's already substantial heritage offer during a visit to the borough, which included a trip to the Greater Manchester Fire Service museum, where he found out more about plans to transform the iconic 1930s building.
The Greater Manchester Fire Service Museum Trust, in partnership with the council, has just submitted a £1.7m stage two bid to the Heritage Lottery Fund to help create a brand new exhibition space on the ground floor of the building, which will take its floorspace from around 200 square metres to over 1,200 square metres.
The council is also looking to create a high-quality office development on the first floor to support small businesses, with facilities and services for up to 100 people at an ideal location next to the borough's main railway station (which is 13 minutes by train from Manchester city centre) and a Metrolink stop.
Mr Burnham was in the borough as part of his Town Centres Challenge strategy, which aims to support councils across the region as they regenerate their town centres.
Seven councils have already put forward town centres in their areas to be part of the challenge, with Rochdale being named as the latest town centre to take part.
Councillor Allen Brett, leader of Rochdale Borough Council, said: "Rochdale town centre has already benefitted from a £250m investment programme and we're now planning our second phase of major regeneration, which will focus primarily on creating high quality housing in the town centre and doing even more to enhance our heritage assets. The creation of thriving housing markets and new cultural offers are major themes of the Town Centres Challenge, so it's great to hear that the mayor is looking to support us on this project."
As part of the launch event, Mr Burnham met a number of key local stakeholders, including developers, property agents, councillors and business owners.
Phase two of the council's town centre regeneration programme will focus primarily on residential development on smaller brownfield sites, many within Rochdale's Heritage Action Zone, recently announced by Historic England, which takes in key gateway sites like Drake Street and its surrounding area. There will also be significant investment in the borough's heritage assets to continue to ensure that they contribute to a vibrant town centre.
Rochdale Boroughwide Housing (RBH) is also looking to bring forward new, high-quality housing forward at College Bank and Lower Falinge, while the council will be redeveloping Town Hall Square. Local stakeholders will be seeking the mayor's support to unlock brownfield sites in the town centre, with the aim of developing almost 2,000 new homes as part of a new residential strategy, which is due to be launched in the summer.
Speaking at Rochdale Town Hall, Andy Burnham said: "I think Rochdale is in a great position to develop a residential offer in its town centre. The council has already done the hard bit, with all the regeneration that's already taken place, and there's clearly already been a lot of thinking here about the civic and cultural space. It's also an area which has great connectivity to the city centre and Metrolink is a huge asset. A report released this week showed that Manchester is growing faster than any other city in England and Wales and a lot of graduates in Manchester want to stay in Greater Manchester, so the market for living in places like Rochdale is moving. I have CPO powers, which I can use to support Rochdale, and Greater Manchester has just been given a £50m land investment to help bring sites forward for housing and make them viable.
"From what I can see, Rochdale has all the right ingredients. This building is without parallel outside Manchester city centre. I love the idea of a new market, which the council is developing; it will bring bustle and life, and the Riverside development is really exciting. I want to help make Rochdale's plans for stage two of its regeneration programme a reality."
Photo L-R: Andy Burnham, Steve Rumbelow, Chief Executive of Rochdale Council and John Searle, CEO of Rochdale Development Agency & director of economy at Rochdale Council.