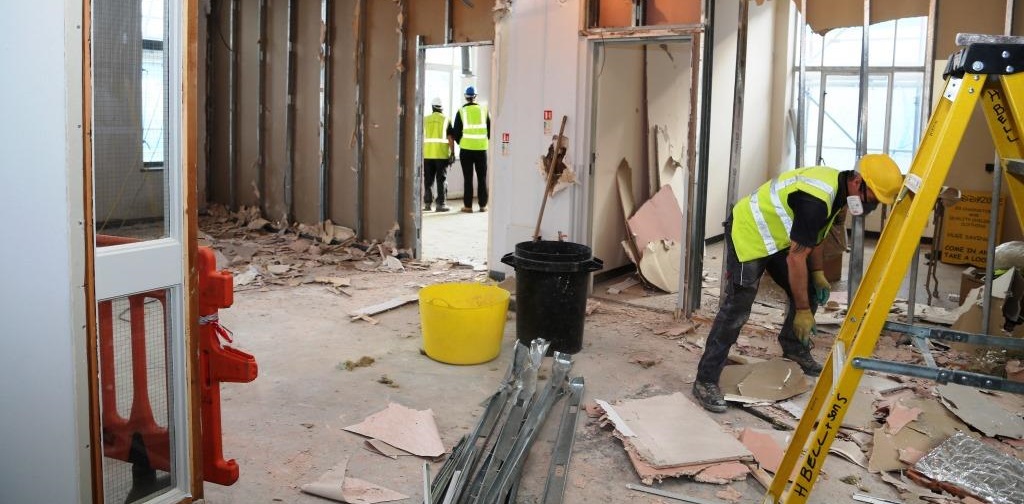 Local company Bells ring in the changes with new indoor market
Posted by Aahmed on 16 Oct 2017 at 10:35
Work to transform the former Santander building in Rochdale town centre into a thriving new indoor market, complete with café and fresh food stalls, is under way.

Local building firm H Bell and Sons Ltd is busy turning the three-storey property, thought to have been built in the 1920s, into a brand new shopping and eating facility, which will be complemented by outdoor stalls around the newly re-opened River Roch.

A major part of the renovation will include the creation of an atrium to open up the building and allow visitors to the café, which is set to be situated on the first floor, to see the stalls below, which could include fresh fruit and vegetables, a butcher, a florist and a bakery.

The contractor will also install lifts in the historic building, as well as replace the roof, undertake extensive work to the outside of the building, while retaining its original features, and reinforce the floor. The work, which will then be followed by an internal fit-out, is expected to take around five months.

Councillor Richard Farnell, leader of Rochdale Borough Council, said: "We are now looking at improved proposals for our indoor offer to make best use of the old Santander building as part of our fantastic new market.




"Rochdale has held a market charter since the 1200s, and it will be great to see our historic market tradition returning in style in one of the town centre's many heritage buildings, in the heart of the conservation area. This will be an important addition to our new town centre and I'm looking forward to seeing it develop in the coming months."

H Bells and Sons employs 30 people, most of whom are local, and have taken on an additional foreman and labourer to help with the Rochdale Market project.

Managing Director, Chris Bell, said: "We've been here in Rochdale for over 100 years, so we're a part of the borough's history. We're proud that with this prestigious project, we can now help Rochdale Borough Council and Rochdale Development Agency shape its future.

"It's our company policy to buy over 85 per cent of our materials within a 10 miles radius of Rochdale, so the wider local economy will also benefit from this project in the immediate term."

Market specialists Quarterbridge have been selected to operate the new market, which will have a wider range of stalls, with a focus on fresh food.

Rochdale's current market recently moved to lower Yorkshire Street and Lord Square to enable site investigation works for the new Rochdale Riverside shopping and leisure development to take place on the former market site in Smith Street. Traders are currently operating from Thursday to Saturday.