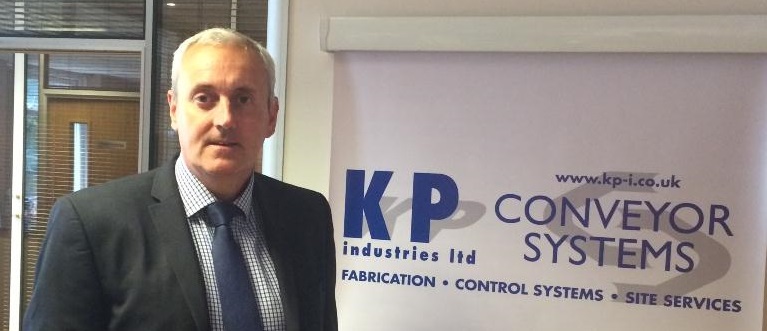 KP Industries uses £1m+ in orders to invest in new premises and staff
Posted by Aahmed on 1 Aug 2015 at 14:53
KP Industries Limited, the Rochdale-based manufacturer of industrial conveyor systems and handling equipment, has used the profits from orders exceeding £1 million to part fund the purchase of a new manufacturing facility and take on four new employees.

Phil Cornell – Managing Director of KP Industries Limited.

Supported by RDA and Business Growth Hub
"Since our business was established in 2003, we have secured orders from leading names from across all facets of industry," comments Managing Director, Phil Cornell. "Thanks to the support of Rochdale Development Agency (RDA) and the Business Growth Hub last year, however, we were able to identify how we could be even more successful – particularly by further developing our sales and marketing strategy. In fact, taking their advice on board was directly instrumental in us meeting with one of the world's leading generator manufacturers."

Initial contract worth £150,000
KP Industries initially secured an order worth £150,000 in 2014 to supply and install a picking system on the generator manufacturer's motor production line. This was followed by the opportunity to tender for a pallet handling system and then an overhead pick and place automated handling solution.

Bringing the generator manufacturer's total investment with KP Industries to more than £1 million, the pick and place system embraces the latest fibre optic technologies and offers advanced product recognition capabilities for tracking components throughout the production stages.

Giving something back
"We had already been considering expansion – both in terms of workspace and personnel," says Phil Cornell. "These orders, which stemmed initially from our association with Rochdale Development Agency, provided the necessary impetus to further build the business and give something back to the borough."

New 4,000 sq. ft. site and new staff
As a result of its ongoing successes, KP Industries has invested in an additional 4,000 sq. ft. of manufacturing space adjacent to its existing 6,000 sq. ft. site on Rochdale's Buckley Road Industrial Estate. The business has also taken on two time-served fitter welders, and recruited both an engineering apprentice and an accounts office apprentice.

Created vision for further success
"The support of Rochdale Development Agency and Business Growth Hub gave KP Industries the vision to put together a business plan that is now reaping real rewards," adds Phil Cornell.

Committed to Rochdale
"At Rochdale Development Agency – and in association with our various partners – we are committed to helping organisations of all kinds enjoy greater business success and bring greater wealth and prosperity to the Rochdale area," comments RDA Business and Investment Manager, Carol Hopkins.