Innovate to accelerate
Posted by on 8 Sep 2020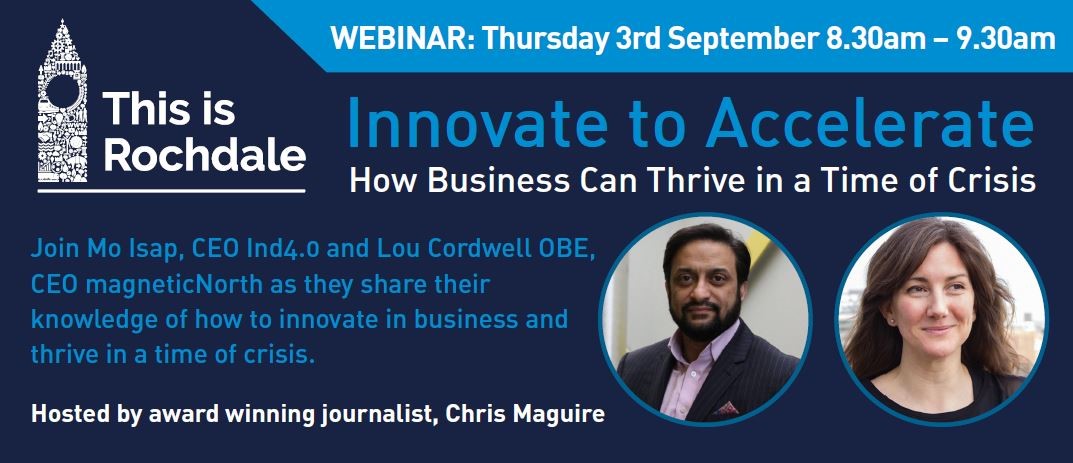 Our latest webinar focused on the need for innovation in a post-lockdown world
If COVID-19 was a big black cloud for business, the silver lining is the opportunities it opens up for agile businesses. That was the theme of the latest Rochdale Ambassadors' webinar, which discussed the role of innovation in helping businesses thrive in the post-lockdown period.
The good news for Rochdale is that, in this regard, it seems to be ahead of the game. Mo Isap, CEO of technology training and delivery company IN4.0, said that businesses in the Borough were already receptive to the idea of digital innovation, thanks to Rochdale's history as a centre of advanced manufacturing. "Rochdale is the most innovation-hungry region, with a real drive and ambition to be a capital of an industrial and digital UK," he added.
Barriers to innovation
Over the past six months many companies have fundamentally changed the way they operate. But innovation should not come to be seen as just an emergency measure, said Mo. Companies thrive when innovation becomes part of a continuous cycle of evolution. The challenge for businesses now is to continue to innovate in the post-lockdown period.
Counter-intuitively, Mo said that one barrier to innovation is competence. When things are going well - or at least well in the circumstances - some companies have a tendency to stick to tried and trusted ways of doing things, and the innovation cycle grinds to a halt. That's a dangerous position to be in. When you stop innovating, you stop preparing for the challenges of the future.
But if COVID-19 has taught us anything, it's that the future can arrive faster than anyone imagines. When companies innovate, they stay ahead of the curve. When a disruptive event like COVID-19 happens, they're in a better position to meet it head on.
Creating a culture of innovation is down to leadership, said Mo. "Businesses need to challenge themselves all the time. Bring challenges on yourself to future proof your business."
Small steps lead to big changes
So what does innovation mean in the digital age? It could mean anything, like creating a sales or support app, moving systems and applications to the cloud or using big data to cut costs or improve the customer experience.
Lou Cordwell OBE, CEO of Manchester-based digital design studio magneticNorth, said that innovation will mean different things to different businesses, but that "the key is to understand the direction of travel of the industry and of your customers."
Lou believes one of the misconceptions around digital transformation is that companies have to spend millions of pounds to get it right. But instead of large scale disruption, innovation can be part of a natural evolution. "Take a small problem in your business, find a potential technological solution, and test and learn," she advised.
Starting small can be a way to show the benefits of innovation while beginning to shift the mindset of the company. Solving a small problem, and showing a beneficial ROI, can lead to a more systematic commitment to change.
Mo and Lou agreed on the need to take small steps, and also to avoid innovation for the sake of it. "You've got to make technology real," said Mo. "It has to have a real business benefit."
The COVID opportunity
If businesses can see that benefit, COVID offers a real opportunity to innovate. Lockdown had already accelerated tech adoption, whether that meant video conferencing or cloud-based collaboration. In turn, leaders have become acutely aware of the potential benefits digital technology can bring. Both speakers agreed that this was not a time to simply revert to the old ways of doing things.
In fact, businesses that continued to exploit new technology could expect to attain real competitive advantage. "In our own case, we're now hearing from potential clients who previously wouldn't work with a design studio outside Shoreditch (in London)," said Lou. "Now customers can be anywhere, if you have the right tools. That psychological barrier has broken down."
Other challenges remain, of course. For the moment, said Lou, "the world feels like it's in a constant state of flux," and that situation may persist for some time. That's a huge issue for business leaders everywhere. But COVID had also offered the opportunity to reimagine the way we work and do business. It could help "level up" the country and reduce inequality. And companies who continued to innovate would give themselves the agility to survive and thrive regardless of the pandemic's trajectory in the weeks and months ahead.