How a company made their business Covid-secure
Posted by on 28 Jul 2020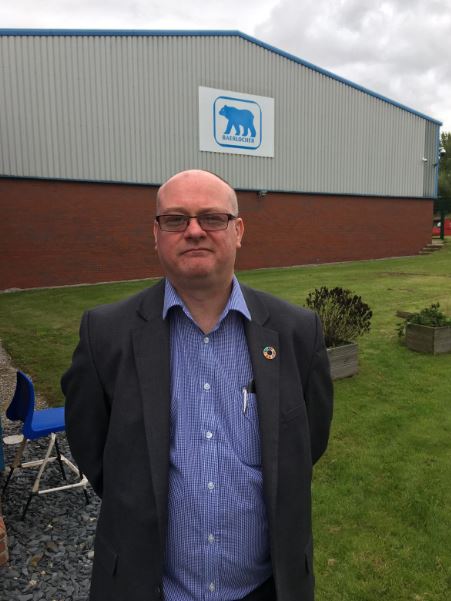 From the outside Baerlocher UK's factory in Moss Hall Road, Heywood, looks much the same as any other business.
The German-owned third generation company is one of the world's leading suppliers of additives for the plastics industry and employs 34 staff at its Rochdale site. When the lockdown forced them to close the site on April 1 for seven weeks the company resolved to create the most Covid-secure working environment possible for when staff were able to return.
Of the company's 34 staff, only the four directors and finance manager haven't been furloughed at some point. The first thing to say is the fight against the pandemic starts before people arrive at the site.
All visits have to be pre-authorised and visitors have to confirm they've received and read the company's guidance before they arrive – including a warning that no kitchen or canteen facilities are available so hot and cold drinks will not be provided. All the rules are strictly enforced. If you're not in the diary you don't get in. When you arrive in the car park you don't go to the reception as you would normally do but phone ahead and wait to be collected.
We were met by site manager Paul Cook and technical director Dane Tallen.
Mr Tallen hails from Newcastle and his job regularly sees him clock up more than 100 flights a year. He knows better than most about Covid-19 as he thinks he probably contracted the virus in March. Although he was never confirmed as having had the virus, tests found antibodies in his system which indicated he'd probably had it. "I had all the symptoms like losing my sense of taste and smell for a month," he said.
Baerlocher UK say it's left no stone unturned in trying to make the factory as Covid-secure as it can. "As a company we don't want to be the reason for any of our staff contracting Covid-19," explained Mr Tallen - and with that my socially distanced tour began.
Entrance
As a result of Covid-19 there's one entrance and one exit into the factory. Entry is by a rear door and you immediately have your temperature checked by a wall-mounted camera. A high temperature can be one of the symptoms of coronavirus and an alarm is sounded if the reading is too high. Thankfully mine wasn't. Everywhere you look are bottles of santisers and latex gloves. Even the forklift trucks are equipped with a box of wipes!
The emphasis is on avoiding unnecessary touching of surfaces so I was given an anti-bacterial wipe if I needed to touch anything.
PPE
Because Baerlocher UK manufacture chemicals a lot of the staff already wear face masks in the production areas. I chose to wear mine although it wasn't mandatory.Dotted throughout the factory are cavernous bins with a sign attached in capital letters saying 'WIPES AND GLOVES ONLY' with the contents being safely disposed of on a regular basis. The lids have also been removed to avoid unnecessary handling.
Signs
The obligatory Covid-19 signs are on most of the walls. One states that the walkways are only mopped between 6am and 8.30am when the factory is at its quietest. There are other signs with advice on how to handrub and socially distance correctly. As you go up the stairs a poster asks 'HAVE YOU SANITISED?' Sanitised is in red letters for extra impact.
Layout
Baerlocher UK operate a one-way system or designated walkways wherever possible. In the main, doors are left open so you never need to touch the handles.
Staff
Baerlocher UK currently have 14 (or 48 per cent) of their available staff furloughed, which makes social distancing easier. After a very quiet trading period in April and May, turnover in June and July has returned to between 80 and 85 per cent. Before staff return to work they all undertake an induction course on the new safety measures that have been introduced. They're not allowed to use public transport or car share. Productions teams have been reduced from five to three in size and working times have been staggered so no two shifts overlap. It means that if a member of a team tested positive for Covid-19 only two other colleagues would have been in close contact with them so would need to self isolate. Even the temperature that a worker's overalls are washed has been increased from 40C to 60C to kill off any lingering germs. In the men's toilets every other urinal has been taped off to preserve social distancing while the maximum number of people allowed in the communal showers has been reduced from five to three.
Canteen
Perhaps the biggest change is in the canteen to reflect the fact this is where transmission can occur as people socialise together. It's been widely reported that Covid-19 spread in Germany when the country's 'patient zero' passed a saltshaker to a fellow worker at a car parts company. As a result Baerlocher UK have a zero tolerance to things being shared.Only five people are allowed in the canteen at any one time and on each of the tables is a bottle of sanitiser while the microwave has also been removed. Even the kettle had been replaced with a boiling water geezer. The taps have been adapted so they can be activated with an elbow. Staff aren't even allowed to make colleagues a drink to reduce the chance of involuntary transmission.
Laboratory
Research and development continues to be really important to Baerlocher UK and a designated walkway has been created around the laboratory so only authorised personnel are allowed in.
Office
Office staff at Baerlocher UK have to adhere to the same stringent rules as production workers. Only five or the 11-strong office staff are allowed in at any one time and have to book into a diary system. Hot-desking is banned and every member of staff has their own office. A one-way system is strictly enforced.
Exit
The exit was by the reception and even the couch was covered in protective plastic to prevent anyone being tempted to sit on it. Mr Tallen said the measures were extensive but unavoidable. "This is such a social company but I don't think we'll ever be completely normal again," he said. My trip to Baerlocher UK was my first site visit in four months but any nerves I had beforehand were dispelled by the company's genuine attempts to become one of the UK's most Covid-secure workspaces.

Written by Chris Maguire