Home working, cyber security and your business
Posted by on 1 May 2020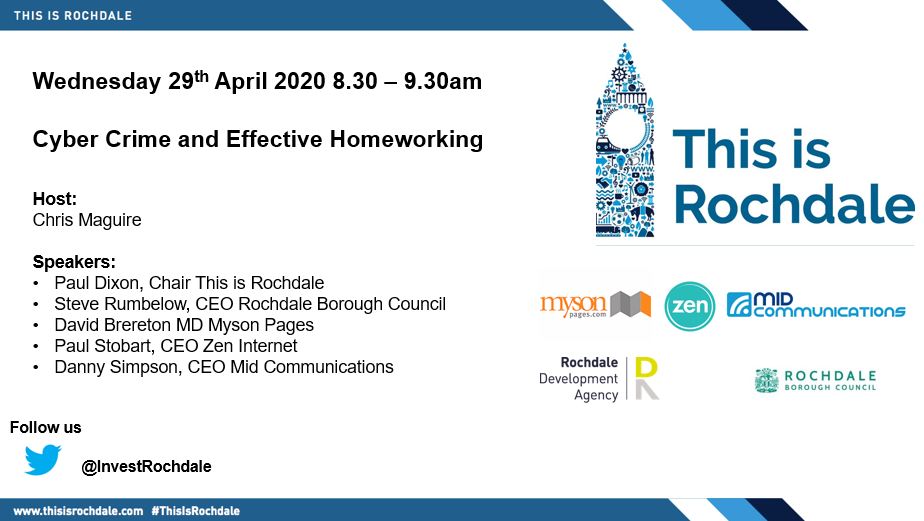 A panel of local experts offered timely advice on remote working in the latest Rochdale Ambassadors' webinar
The second Ambassador event of the Covid-19 lockdown focused on a topic - remote working - that many businesses are struggling with. How can you make homeworking productive, and how can you make it secure?
Dave Brereton, managing director of IT support company Myson Page described the current situation as "the seatbelt moment". Cars have always been equipped with seatbelts, but it took decades before everyone used them. He urged businesses to use the cybersecurity technology they all had at their disposal now.
"For the first four weeks of lockdown the priority has just been to get remote staff up and running online. Now we're realising that we also have to do that safely," said David.
He cited the example of a hacked email that cost a local business £17,000. Cybercriminals managed to place a spoof email into an email payment thread, directing the payment to a different bank account. An employee, working from home for the first time, paid the invoice.
"Perhaps that individual didn't implement the checks and balances they normally would have," said David. He added that it showed that many businesses don't have the IT infrastructure and processes in place for safe remote work. That puts them at risk.
But he also said that, for SMEs, a relatively straightforward and inexpensive four step plan for remote working would go a long way to locking the door on cyber criminals.
● Install and run anti-virus software.
● Use web filtering and email filtering software.
● Keep devices up to date. Don't cancel upgrade notifications - act on them.
● Make staff aware of basic cybersecurity measures, like not opening links in emails unless you're expecting them.
Making homeworking work
David said that these precautions were especially necessary because the "homeworking genie is out of the bottle" and many workers would continue to work from home even after the lockdown is lifted.
But how to do so effectively? Danny Simpson, managing director of MID Communications, the largest O2 franchise in the Northwest, said the business had started implementing homeworking processes when staff were snowed in a few winters ago.
He told the event that having a daily structure was important, along with a dedicated work space. Taking regular breaks could help productivity and mental health. For business leaders, he emphasised the importance of communicating with staff during lockdown, and not just about work. In what is a time of anxiety and isolation for many employees, MID Communications is organising a series of virtual quizzes and games for its entire workforce.
Paul Stobart, chief executive of internet service provider Zen, agreed that communication with homeworking and furloughed employees is crucial to the long-term health of an organisation. Paul has been posting regular updates to Zen's 600 staff via a video blog, and has been "brutally honest" about the decisions the business has had to take.
"The vast majority of staff have been working from home since March 23, and we realised right away that it was important to keep communication channels open, and for them to hear what they needed to know from the horse's mouth," said Paul.

Paul said the secret to good communication is honesty and authenticity. Employees know what's going on, and are understandably concerned for the future. The more honest and open Zen's communication has been, the more understanding and supportive employees have become. "Staff will be more concerned if they think their employers are not being honest with them," he added.
Looking to the future
Like many businesses, Zen has started to look to the future, and the relaxation of lockdown rules. The panel agreed that it is important for companies of any size to start thinking of how they might operate when lockdown rules are relaxed. One thing is for certain: it won't be back to 'business as usual'.
Paul said that, with social distancing rules likely to stay in place till a vaccine or treatment is available, only 40% of Zen's staff will be able to work from the office at any one time. Danny added that it was likely that only eight or nine people - including both staff and customers - would be allowed in one of MID Communication's O2 retail stores at once.
These are challenges that companies should be planning for now, but the panel agreed that there would also be opportunities. Some businesses will have discovered efficiency savings and technological shortcuts during lockdown that will help them in future. David believes that his business could benefit from the part technology is likely to play in solving problems in the 'new normal'.
In fact, the panel agreed that there would be opportunities for many types of business in the post-pandemic world. As Paul said, "we will just have to be more agile, nimble and creative to take advantage of them."
You can view the full webinar here.