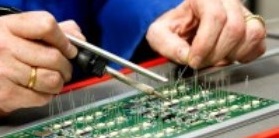 GJD Manufacturing – Secures Euro deal
Posted by on 1 Mar 2015
GJD Manufacturing – Secures Euro deal
A leading Heywood business will see its products on sale throughout Belgium after landing a deal with a top European company. GJD landed the deal worth an undisclosed sum with ADI Global. It means that the Heywood firm's gadgets, including its Clarius illuminators and its D-TEct detector range, will be on sale in Belgium, opening up new markets.

Ana Maria Sagra-Smith, international sales and marketing director at GJD manufacturing, said: "We are proud of our partnership with ADI Global and are pleased that ADI Belgium is stocking even more of our products. As well as accurate product knowledge, ADI places a strong focus on its customers."

GJD Manufacturing Ltd is an industry leader in the design, manufacture and supply of professional external detector equipment, as well as CCTV and security lighting controllers utilised in the intruder surveillance sector. Based in Heywood, Greater Manchester, our team has extensive knowledge and expertise, with over 30 years of experience in the security lighting industry.

This year GJD celebrates 30 years of successful manufacturing. The team has built a strong brand and positioning both in the UK and globally, with its range of external CCTV detectors. Managing Director, Mark Tibbenham says "We take great pride in developing new innovative designs; utilising the latest technology and implementing state-of-the art manufacturing techniques, which will ensure our respected position within the industry".

Our strong and continuous growth is the result of an ardent philosophy of producing consistently reliable equipment coupled with a dedication to after-sales support. GJD has remained dedicated to new product development and will continue to produce innovative new technology for the external detector and security lighting sectors.