Enterprise targets growth after securing New Rochdale Location
Posted by on 18 Jan 2021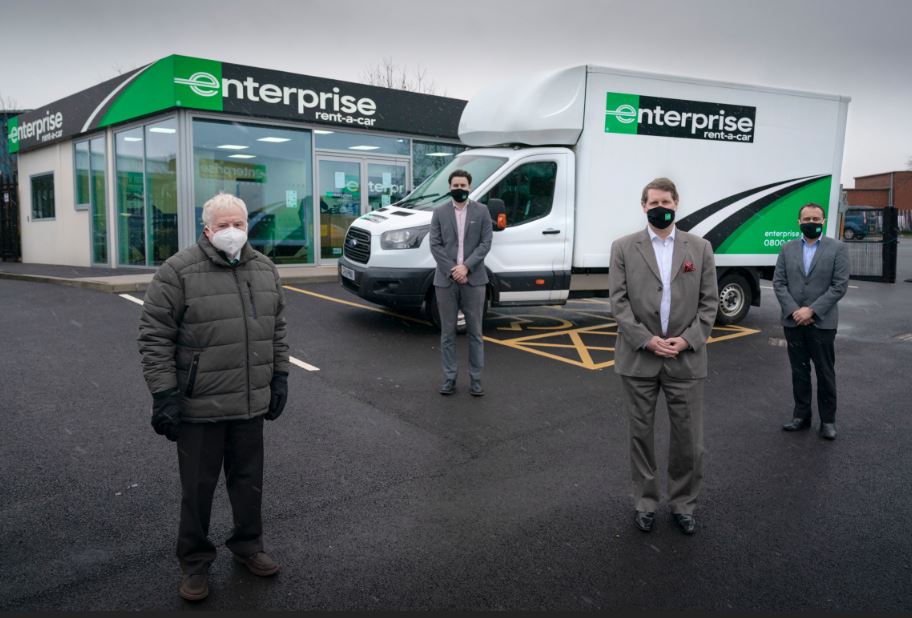 Photo © L- R Councillor Allen Brett, RBC, Jack Henbury, Gary Palmer and Tauseef Ahmad, Enterprise.
Enterprise Rent-A-Car has created a new purpose-built facility in Rochdale that will help the company grow its operations in the town.
The new location, at the junction of Oldham Road and Ainsworth Street close to Rochdale town centre, is three times larger than the company's previous property. It will allow further expansion of the business while providing a modern and comfortable environment for customers and staff.
The total site area is approximately 17,850sq ft and incorporates a modern office building, a customer car park and space for rental vehicles. The car park will include 24 hour access to two car club spaces. Car club is an increasingly popular and sustainable way to drive.
Jason Black, Group Facilities and Construction Manager, Enterprise Rent-A-Car, said: "We are excited to be able to invest in a location that will help us to better serve our customers with their mobility needs. The new site is purpose-built and more than three times larger than our old site, so will allow for anticipated growth in the future.
"We're grateful for the support provided by Rochdale Development Agency in helping us to find and invest in this site."
Enterprise worked alongside the Rochdale Development Agency and Rochdale Borough Council to find the right site for their needs and agree the deal which will see the business move from its current location in Queensway. The move safeguards the company's current staffing levels and opens the likelihood of further local recruitment in future.
Allen Brett, leader of Rochdale Borough Council, said: "This move will secure local jobs, help a local business grow and make productive use of a currently unused pocket of land. We're delighted that Enterprise has shown faith in Rochdale and sees a real growth opportunity in our town."