Emerging from the lockdown, a strategy for economic recovery
Posted by on 14 May 2020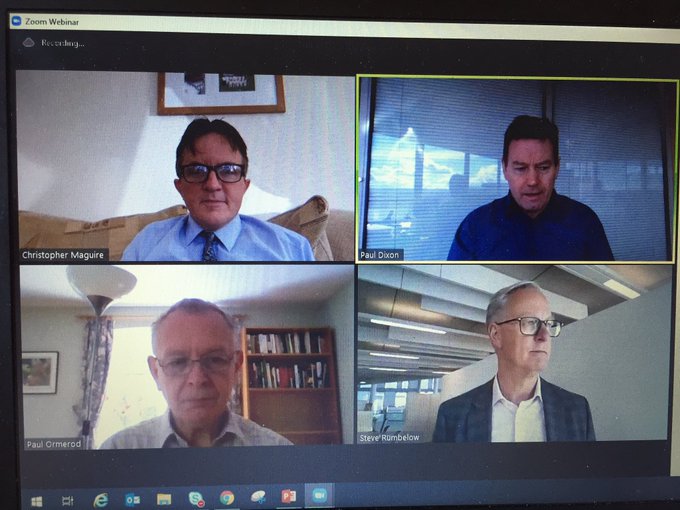 Our third lockdown webinar offered timely advice from the new RDA chairman on the realities of getting back to work
Incoming RDA chairman Paul Ormerod struck an upbeat tone as he discussed the relaxation of lockdown and what it might mean for businesses in Rochdale and the surrounding region.
The influential economist and author refused to sugarcoat the situation - he described the coming recession as potentially the deepest in modern history. But he added that, as confidence returns, the economy could bounce back quickly.
Talking to a remote audience of nearly 200 local business people, Paul said: "It's plausible that most of the economy could be working at something approaching full capacity by the Autumn, if people are sensible and follow the advice."
And while measures to control coronavirus had hit local businesses hard, the crisis would present opportunities for those companies agile and innovative enough to grasp them. In particular, the crisis had illuminated the fragility of long and complex international supply chains.
"Rochdale has a very strong manufacturing tradition, and after coronavirus many businesses will be looking to make supply chains a lot shorter, with far more domestic sourcing. That provides great opportunities for Rochdale manufacturers," said Paul.
Enviable heritage
He added that the local tourist industry could also receive a significant boost, as people looked to book more domestic trips.
As a birthplace of the industrial revolution, and home to a cooperative movement that has now spread around the globe, Paul believes Rochdale borough has an enviable heritage that it has yet to fully exploit.
"Think of our magnificent town hall, which is really one of the country's iconic buildings," he said. "And whenever I bring foreign visitors to Rochdale they're bowled over by the countryside."
He was also cautiously optimistic about the immediate prospects for businesses in the borough, though he recognised that some sections - like the service sector - had taken a severe blow.
But businesses adapt, as evidenced by the Rochdale manufacturers that quickly recalibrated machinery and systems to make equipment for the NHS, and local restaurants transitioning to a takeaway model.
Confidence is key
In the longer term the key to recovery was confidence, Paul added. When workers and consumers were confident enough to go about their everyday lives without fear, the economy would improve.
At some point a treatment for Covid-19 would be found, but before that people would learn to live with an acceptable level of risk. We do it all the time, as Paul explained:
"Road traffic causes thousands of deaths and serious injuries every year, so why not abolish it? Because its benefits are too high. There's a trade off between costs and benefits, and we try to bring the costs down by mitigating risk. The same is true of Covid. There is no risk-free way out of this crisis, but we can mitigate the risk as much as possible."
Adapt and survive
Paul welcomed the announcement this week of an extension of the government's furlough scheme, which supports employee wages, because it would give businesses time to adapt to this 'new normal'. For the time being that would mean living and working with the virus, while following sensible distancing rules.
It was also important to support those sectors - like hospitality and leisure - where businesses have been forced to close and would be among the last to fully reopen, he said.
But he agreed that furlough couldn't go on forever, and that a measured and gradual reopening of the economy should now begin. That needn't lead to a spiralling infection rate if precautions were put in place and followed.
"In my opinion there's some undue pessimism around a second wave of infection if we come out of lockdown," he said. "People can adapt and learn, and we can potentially cope with the second wave far better than the first."
Wider perspective

As new chairman of the RDA, Paul - who was born and bred in Rochdale - will be in place to help businesses in the borough cope with whatever the 'new normal' brings. He hopes his own role will be to give a wider perspective, and help to identify the area's comparative advantages.
One of those is the town's excellent links to Central Manchester, he said, and the efforts that are already being made - through the Station Gateway and Rochdale Riverside schemes, among others - to make Rochdale an attractive and cost-effective place for people working in Manchester to live.
There are many others, and though Paul takes up his role at a difficult time, it is also a potentially exciting one. In his regular update, Rochdale Borough Council chief executive Steve Rumbelow mentioned a raft of important projects, from phase 2 of the Rochdale Riverside development to the new link road at Junction 19 of the M62 at Heywood, that were still very much on track.
The webinar can be viewed here