Dunsters Farm goes national after Covid
Posted by on 27 Oct 2020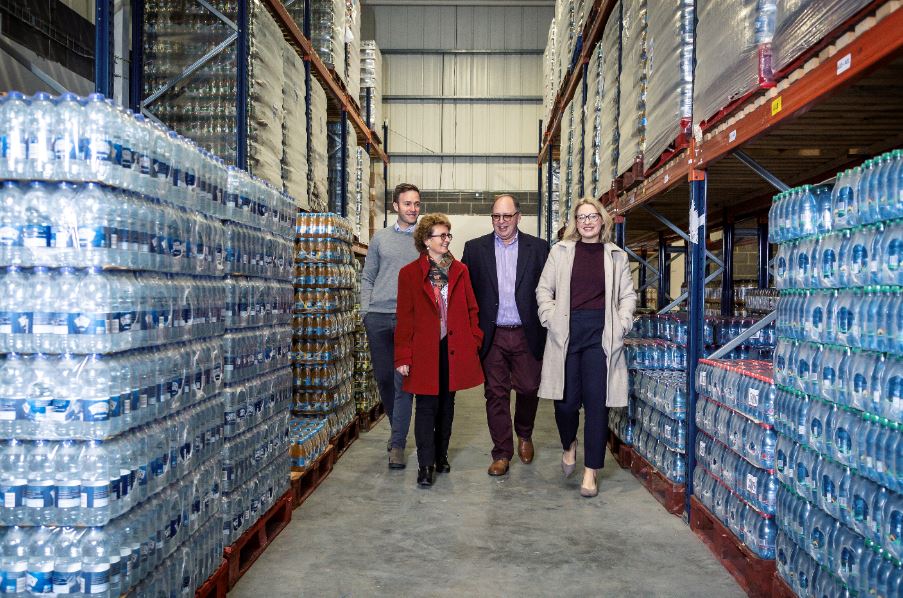 Photo © L-R Tom Matthew, Elizabeth Matthew, Jeremy Matthew and Hannah Barlow
Wholesale food distributor Dunsters Farm is launching a national home delivery service just months after Covid-19 left it fighting for its future.
The third generation business had been targeting turnover growth from £12m to £15m until the pandemic struck.
Dunsters Farm, supplies food to the school, restaurant and hospitality sector, all of which were left devastated by the lockdown.
It has a number of clients in Rochdale including Hollingworth Academy and Hopwood Hall College.
With tens of thousands of pounds of stock about to go out-of-date during Covid the business launched an eCommerce website and started selling direct to the consumer for the first time.
Following the reopening of the schools, revenue is now back at 2019 levels and Dunsters Farm is launching a national home delivery service in November.
Joint managing director Hannah Barlow described the last few months as a 'rollercoaster ride' but said the 57-year-old business was approaching the future with confidence.
She said: "The business was set up by my grandfather Les Ratcliffe in 1963 as a milk round and my parents Elizabeth and Jeremy came onboard as the second generation.
"My brother Tom and I joined in 2014. We call ourselves a food service. We're the middlemen between the supplier and the catering teams that work in hospitals, schools, restaurants and universities.
"March was going to be a record month and we thought we could grow to £15m in the current financial year – and then along came Covid.
"Overnight 95 per cent of our customers were forced to close through no fault of their own.
"We were losing money every single day we stayed open but we never considered closing because we had to serve schools who were staying open for key workers."
However with tonnes of food about to go off Dunsters Farm had to pivot their business model in just a couple of days to go online.
"We've always allowed our trade customers to order online but we didn't have an eCommerce facility," she said. "We sell in bulk like giant bags of grated cheese and 2 kilo tubs of sour cream and it's too big for your average shopper.
"We were in danger of losing tens of thousands of pounds of food so we started selling online and delivering to people's homes through our fleet of smaller vehicles."
Orders of over £30 were delivered for free in the Greater Manchester area and home delivery sales peaked at £5,000 a week.
The business also held 'yard sales' on the last Saturday of every month and donated a huge amount of produce to local food banks.
Hannah said: "It kept the staff that weren't furloughed busy and helped us move our stock through.
"We still lost a significant amount of money between March and September but it would have been a lot worse without it."
Rochdale Development Agency also stepped into help and the situation improved markedly in September when the schools reopened.
"We've been clawing our way back since September but will still be well short of our target turnover," said Hannah.
"Despite the ongoing uncertainty over Covid we remain ambitious to grow and are working with a number of corporate clients to deliver food hampers and parcels to staff.
"We're also going to be launching our national home delivery service in November. Unlike local deliveries there will be a delivery charge but we know there's a national demand for the 500+ products on our B2C eCommerce platform.
"There have been a lot of sleepless nights over the last seven months and there remains a lot of uncertainty but we remain committed to serving Rochdale and now the UK for many more years to come."