Council kickstarts Drake Street regeneration with celebration event
Posted by on 17 May 2018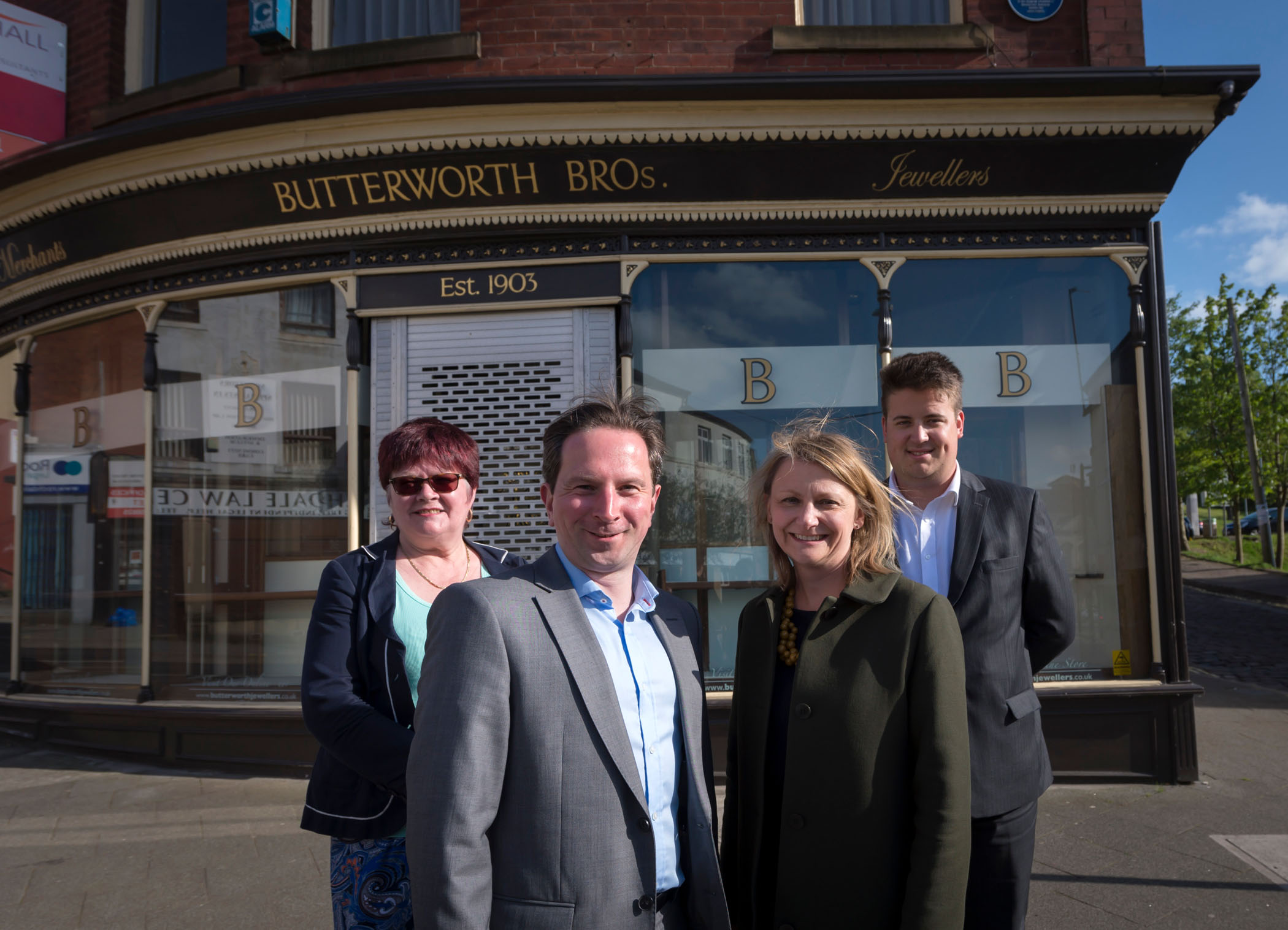 The revival of one of Rochdale's most famous historic shopping streets has moved a step closer, following the official launch of the Heritage Action Zone project in the town centre.
The project will see Historic England work with the council to redevelop Drake Street and its surrounding areas over a five-year period.
Major plans include the creation of 200 new homes and the renovation of a number of historic buildings in the area, to bring them off Historic England's At Risk Register.
The council is also looking to create a heritage trail to tell the story of the historic buildings in the area, many of which are linked to the cooperative movement, and better link the railway station with the town centre.
Since Rochdale was named one of just eight Historic Action Zones in the country late last year, the council has progressed plans to buy the former Butterworth jewellers building at 14 Drake Street and is working with the cooperative college to turn it into a space from which young people can set up and run cooperative enterprises. A grant scheme will also be launched soon to help renovate a number of the historic buildings.
As well as £500,000 cash from Historic England, the council will be given free specialist support throughout the project, with a delegation of experts, including landscape architects and urban planners, due to visit the area later this month.
Councillor Janet Emsley, cabinet member for Leisure and Culture at Rochdale Borough Council, said: "We are lucky enough to have some spectacular heritage buildings here in Rochdale, so no plan to regenerate our town centre would be complete without major investment in these important assets.
"I'm really proud to say that since we achieved Heritage Action Zone status, we've already had a major boost, with grant one funding approval from the Heritage Lottery Fund for the redevelopment of the town hall, so we're already well on our way to bringing our fabulous heritage to life as part of a regenerated and transformed town centre."
Catherine Dewar, planning director for Historic England, said: "Using heritage as an asset is the cornerstone of economic revival, with evidence showing that every £1 of public money invested in heritage generates £1.60 for the local economy. One in four businesses also cite a historic environment as a reason for opening in a particular area."
Liz McIvor, from the cooperative college, said: "Cooperatives are popular around the world, but we need to ensure that their influence remains strong here in Rochdale, because this is where it all started.
"By celebrating this international movement and its Rochdale roots, we will help restore a sense of place, a sense of something great having gone before and something great still to come."
£250m has already been invested in the core town centre area since 2011 and the next phase of regeneration, spearheaded by the council and RDA, will focus on reviving key gateway areas, including Drake Street, and delivering major improvements to the public realm and heritage offer, as well as delivering around 2,000 new homes across the wider town centre.
The council has already contributed £1.6m from its capital programme to the Heritage Action Zone project, as part of the £25m sum which the council and its partners will plough into heritage in Rochdale town centre over the next five years.
Rochdale is only the second North West site to achieve Heritage Action Zone status, after Appleby in Cumbria was selected when the first round of Historic Action Zones were announced in 2016.