College pledges to support businesses and train 300 new apprentices
Posted by on 21 Sep 2020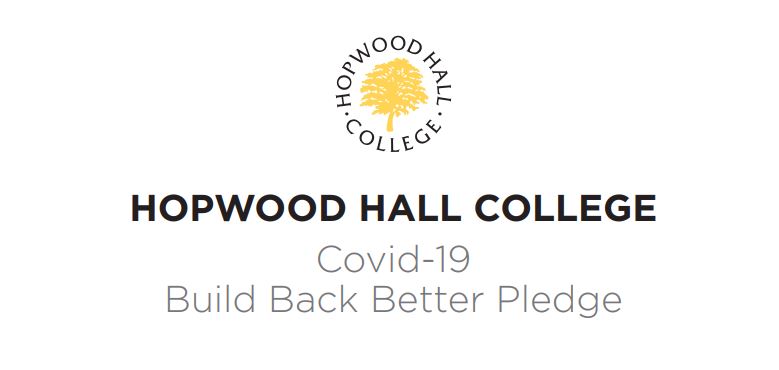 Hopwood Hall College has promised to train 300 new apprentices in the next 12 months – and has called on Rochdale companies to create jobs. The college, which has two campuses in Middleton and Rochdale, made the apprentice promise at the launch of its 'Build Back Better' pledge.
The plan to train 300 new apprentices forms part of a six-point pledge designed to boost Rochdale's economy during the pandemic.
Julia Heap, principal and CEO of Hopwood Hall College, said: "The 'Build Back Better' pledge is our way of proactively supporting the community as it starts to recover from the effects of the pandemic. We want everyone to have access to opportunities that will aid them in reaching their potential and realising their ambitions. "We look forward to many more businesses joining us in helping the community to build back better."
Tracey Wood, head of business development at Hopwood Hall College, said the focus was on coming up with a bespoke solution for Rochdale. She said: "This is all about Rochdale working together. We want to create a skilled workforce and we want to keep them in Rochdale.
"Covid-19 has created an unprecedented challenge for business and we're determined to play our part in helping come up with a solution. We have over 250 job-ready applicants ideal for positions.
"We're working with job centres and partners to make sure companies can get access to people and skills quickly. "Hopwood Hall College is committing to train 300 new apprentices across all sectors. They could be people who have lost their job at the end of furlough or who need to be upskilled.
"It could be face-to-face learning or virtual lessons. We've promised to create the highest quality of training and meet the needs of employers. We can even help businesses secure funding of up to £3,000 to take on an apprentice."
The pledge also reinforces the college's commitment to adult education and life-long learning, including a promise to offer a place for all eligible adults wanting to take a university-level course, either through Access or Higher Education.
In addition, Hopwood will continue to provide a wide range of flexible, part-time and online courses as it further establishes itself as a hub.
Hopwood has also vowed to build more business relationships that will allow students to gain workplace skills through industry placements. This is an ideal pipeline for future recruitment.
John Searle, chief executive of Rochdale Development Agency, said: "The RDA fully endorses Hopwood Hall College's Build Back Better pledge to continue to provide an excellent service to their students, businesses and local community.
"We urge businesses in Rochdale to work with Hopwood Hall College, particularly if they are planning to restructure their existing workforce in light of the economic impact of the Covid-19 crisis.
"The college is in a strong position to help companies and their employees with retraining and upskilling programmes during these challenging times."
Gail Hopper, director of Children's Services at Rochdale Borough Council, said: "As we move forward during what has been a challenging time for many, we need to ensure people within our communities have access to the widest range of opportunities, coupled with the right support and guidance to develop, grow and learn new skills for employment.