Cinema projects new skyline for town centre as Rochdale Riverside takes shape
Posted by on 24 Sep 2018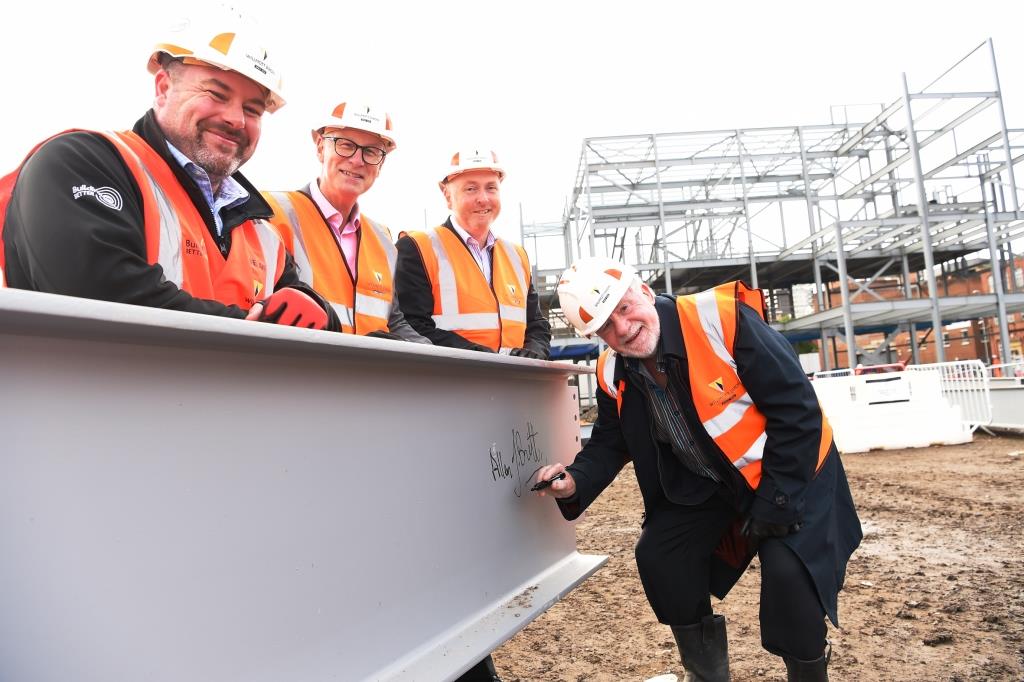 The retail and leisure development in Rochdale town centre is moving forward fast, with an official steel signing ceremony taking place at the site.
Representatives from the council and contractor, Willmott Dixon, gathered on site to mark the completion of the steel frame for the six-screen cinema building, a major construction milestone.
The cinema, operated by Reel, will be a big part of the leisure offer in Rochdale Riverside, which will also feature a number of restaurants.
Rapid progress has been made over the last few months, with major jobs like preparing the site foundations, now complete. Willmott Dixon has also been busy diverting services and erecting the steel for the cinema.
A new road, New Baillie Street, which links Penn Street and John Street, will open in the next few weeks, to coincide with the closure of Milton Street and Bailie Street.
The completion of the steelwork is another big step forward for the project, which was given a major boost earlier this month when high street giant Marks and Spencer re-affirmed its commitment to the scheme after announcing it wanted to pull out in December last year.
M&S will open a 50,000 square feet two storey store, including a café, in the development. Next, Boots, JD Sports and River Island will also be part of the scheme, which is expected to open to the public in summer 2020.
Around 50 people are already employed on the construction site, with the scheme expected to create 1,000 permanent new jobs when complete and boost the local economy by £17m a year.
Councillor Allen Brett, leader of Rochdale Borough Council, said: "There's been a lot going on at the Rochdale Riverside site and I'm pleased to see they're making really good progress and are well on schedule. Now we can see huge structures going up, the excitement is really building.
"This development will change the face of Rochdale by creating a first class retail and leisure experience, which will bring major high street names and create a fantastic early evening offer to complement the many new bars and restaurants which have recently opened in the town centre."
Willmott Dixon operators director Mike Lane, said: "We're proud to be delivering this fantastic and transformative addition to the town centre, a vital catalyst to encourage new inward investment which we hope will leave a lasting legacy that all can be proud of.
"Project milestones such as this steel signing give us to opportunity to take stock of the dedication and team-work that is making this exciting project a reality. We're delighted our project will be an important part of this town's future for years to come."
Anyone who would like to be kept updated on the progress of Rochdale Riverside, including any changes to roads, can visit: rochdaletowncentre.com