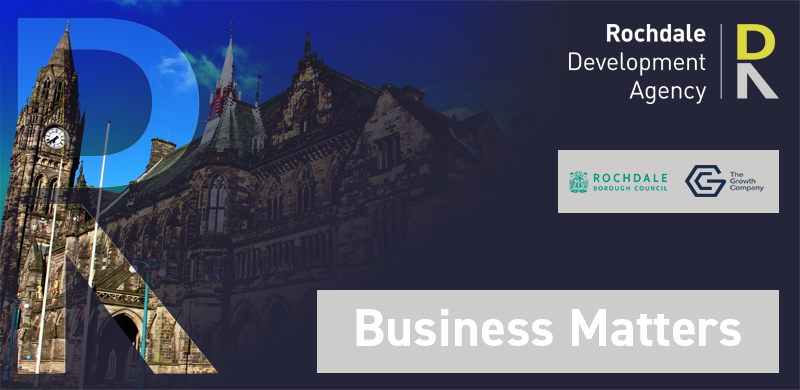 July 2018
Posted by MarketingAd on 18 Jul 2018 at 07:24
Venturefest
Do you have an innovative product or service? Would you like a package of business support to help you take your ideas to the next level? Then have a look at entering the Innovation Showcase Competition at this year's Venturefest on 13th September at Manchester Central. There are 4 categories: Product Innovation, Service Innovation, Digital Innovation and Innovative Established Business. It's a fairly simple entry form
http://www.venturefestnorthwest.com/competitions . Entries will be shortlisted and the 10 finalists will be asked to make a short presentation to potential investors. After last year's event offers of over £4m were made to local businesses. Entries close on 31st July.
For more information about Venturefest , how to attend and how to exhibit please click here or contact peter.gaunt@growthco.uk

Rochdale Business Resilience Event
Would you be ready for a flood? Would you be ready for a fire? Would you be ready for a cyber attack?
Are you interested in finding out how your business can develop a responsible approach to society and the environment.
Find out more about how you can prepare your business and become more resilient.
Business in the Community 'Business Connector programme' in partnership with Rochdale Development Agency is hosting an event aimed at helping you to get ready.
Guest Speaker – Kay Allen OBE - Founder of Trading For Good. Kay has worked at a senior level at Whitehall. She was appointed to Downing Street to advise on the Big Society campaign. She has been awarded an OBE for services to Equality and Human Rights. She was the winner of the Lord Dahrendorf Award for Business impact and named a BITC Game Changer.
Cyber security presentation by Gareth Godard – North West Digital Engagement Manager for Barclays.
Refreshments (sponsored by Ian Madeley - Gauntlet Rochdale) registration is from 7.30am please register here

Training available
Do you have some employees who need some Level 2 or 3 training? There are 2 new funding opportunities, one aimed at employees earning less than £15,736 per year, and a second aimed at employees aged 16-23 and NOT already holding a L2 or L3 qualification. Funding is available across a range of sectors including Business Admin and Customer Service, various engineering levels, including fabrication and welding, as well as social care.
Training will be on the job and support will be available throughout from a dedicated tutor. It can be made available to new employees with little experience, or even more experienced employees who perhaps need new skills.
Funding is available through Rochdale Training Association and you should register your interest by contacting Mark Whittaker: mwhittaker@rochdaletraining.co.uk or 01706 631 417.

Career Day
Hamer Primary School is looking for local businesses who could help them with a challenge week, starting 10th September. They are looking for people who could talk or demonstrate something to the primary school pupils – particularly if you can challenge stereotypes. They are particularly interested in people who may be in non-traditional roles eg women in construction. For more information please email vterry@hamer.rochdale.sch.uk . Whilst the school will shortly be closing they will be picking up emails.

Apprenticeship Levy
Just a reminder to those businesses with a large wages bill – are you making the most of the Apprenticeship Levy? You can spend the levy funds on apprentice training for either new or existing staff, providing the individual meets the eligibility criteria. Government figures show there has been a significant drop in apprenticeship numbers since the introduction of the levy. If you are not sure how to access the funds contact your training provider and they will be able to help you. You only have until April next year!

Trade Mission
Are you in the aerospace, automotive and advanced engineering sectors? Would you like to explore new overseas markets and grow your business? Turkey is a country with huge potential and there are many opportunities in the sectors listed. The Department for International Trade is running a trade mission in September aimed at North West based SMEs. The mission will be led by Turkey market specialists and will include briefings and seminars on doing business with Turkish companies. All businesses will be responsible for their own travel and accommodation costs.
For more information and to register your interest click here

Mayor's Question Time
On Tuesday (24th July), the Mayor of Greater Manchester, Andy Burnham, will host his monthly Question Time at Wardle Academy in Rochdale. The event is a great opportunity for anyone to come along and ask the Mayor a question. Anyone who lives, works, socializes or has an interest in Greater Manchester is welcome to come along. Please click here to register.