Business leaders to speak about surviving and thriving in a crisis
Posted by on 20 Aug 2020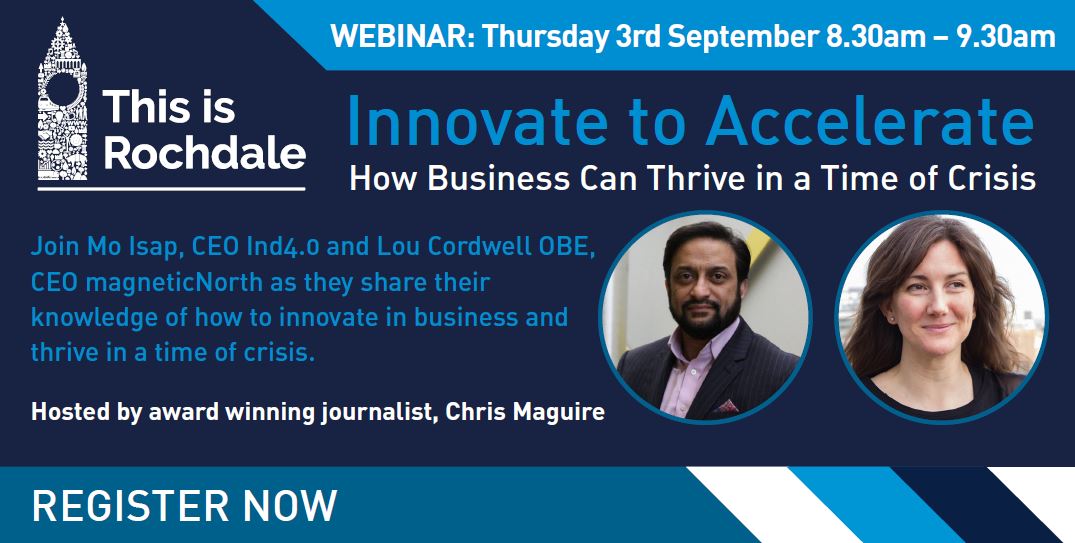 Two of the biggest names in the Greater Manchester business world will be talking about the importance of innovation when they speak at an exclusive Rochdale webinar next month.
Mo Isap, founder and CEO of IN4.0 Group, and Lou Cordwell founder and CEO of the multi award-winning digital design studio magneticNorth, are speaking at the September 3rd event entitled 'Innovate to accelerate - how business can thrive in a time of crisis'.
They are joint chairs of the Greater Manchester Local Enterprise Partnership and believe passionately in the need to innovate in order to grow and develop your business.
Mo, who scaled his company MPG to one of the largest independent digital print companies in the UK and was listed in the Financial Times 100 fastest growing UK companies, said: "I've heard so many positive things about Rochdale business community and I'm really looking forward to speaking at the 'Innovate to Accelerate' event.
"Businesses have to be really versatile and unafraid to pivot. They also have to take advantage of the latest technology and data to get closer to their customers."
Lou founded magneticNorth in 2000 and helped the company quickly establish an international reputation. She was awarded an OBE in the 2018 New Year's Honours for services to the creative and digital economy. She said: "Covid-19 has changed business forever, especially the move towards home-working. Although it's a challenging environment, businesses that innovate can thrive.
"I'm really looking forward to sharing my own experiences with Rochdale's vibrant business community and the importance of digital transformation."
The webinar takes place from 8.30am-9.30am 3rd September and is hosted by award-winning journalist Chris Maguire.
To register please click here