BES Engineer wins national BESA Award
Posted by on 20 Dec 2019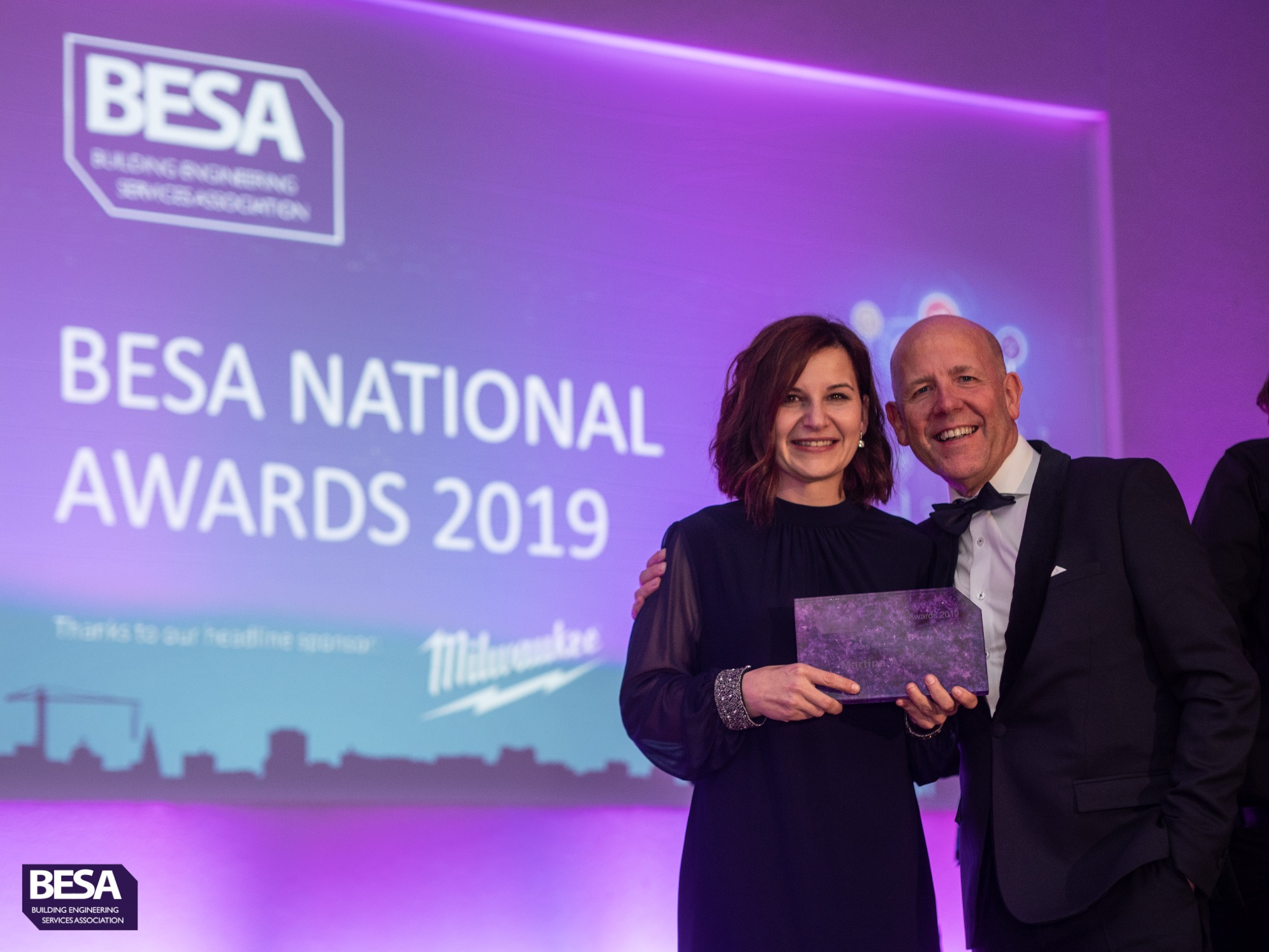 North West based Martina Antalova, from BES, the Rochdale-based specialist in design and construction of technically complex pharmaceutical and healthcare environments, has been recognised for her achievements by a prestigious national award from BESA (the Building Engineering Services Association).
Beating strong competition from a shortlist of eight finalists, Martina was presented with BESA's inaugural Outstanding Woman in Building Engineering Services Award, which has been introduced to celebrate the centenary of the Women's Engineering Society. The award, presented on 21 November, 2019 at The Millennium Gloucester Hotel recognises Martina's specialist skills in designing building services for complex cleanroom, aseptic and laboratory environments. These skills have seen her promoted to design lead at BES, overseeing the company's multi-disciplinary process, architectural, building services and design teams and taking responsibility for the client relationship in £multi-million projects.
Martina, 38, was presented with her award by Elizabeth Donnelly, Chief Executive Officer of WES, at the BESA National Conference & Awards event in London. Ms Donnelly praised Martina for her achievements in overcoming challenges early in her career, her willingness to extend her technical abilities in a specialist field and her success in maintaining a positive work/life balance.
"Martina is a true inspiration to women and girls with aspirations to forge a career in the building services sector," Elizabeth Donnelly commented. "Having completed her mechanical engineering degree and Master's in building services engineering in her native Slovakia, she overcame her lack of workplace experience and the language barrier to gain professional success in a consultancy role before joining BES in 2013.
"Since then, she has been tenacious in developing her skills in a highly specialist environment to win both promotion and recognition from colleagues and clients. All of this while raising a family and returning from maternity leave twice to lead major projects."
Martina's experience since joining BES includes design lead responsibility for major projects for pharmaceutical and biotech giants AstraZeneca and Ipsen. Outside of work, she has also volunteered as a STEM outreach ambassador, which will see her visit primary schools to inspire a young generation of engineers for the future.
Martina adds: "In the UK at the moment women only make up 11% of building services engineers and we really need to take action to change that by helping girls understand what the job involves and the opportunities for an interesting and diverse career.
"I have been very fortunate at BES; the company has supported me, encouraged me to take on responsibility and provided me with opportunities to progress. This is the first award I've ever entered and I'm hoping it will encourage other companies to recruit more women into engineering roles and help young women to see what a rewarding career it can be."

For further information contact Clare Ward, Clare Public Relations, telephone 0161 707 0992 or email clare@clarepr.com.
Sandra Stepniak, marketing manager, BES Ltd, 0161 655 3344 email; sandrastepniak@besltd.org