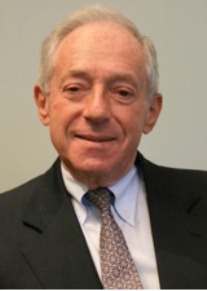 Barrie Bernstein loses fight against cancer
Posted by Aahmed on 1 Sep 2015 at 14:38
Barrie Bernstein, a leading figure in the Rochdale and Middleton areas for many years and the driving force behind the creation of the Rochdale Development Agency, has lost his fight against cancer.

Mr Bernstein, 76, died on 24 August following a four-and-a-half-year battle with cancer. His diagnosis came only months before he lost his wife of almost 50 years, Frances, to the disease. They were married in 1961 and had three sons, Simon, Jeremy and Robin.

Mr Bernstein's highly successful kitchen manufacturing business, Bernstein Group plc, was based in Middleton for many years and brought considerable prosperity and employment to the borough. Bernstein Group plc grew to become the second largest kitchen manufacturer in the UK, employing more than 1,300 people.

In November 2006, Rochdale Borough Council granted Mr Bernstein its highest possible accolade, the Freedom of the Borough. The award was given in recognition of his outstanding service to the area and, in particular, reflected the leading role he played in the founding of the Rochdale Training and Enterprise Council and the creation of Rochdale Development Agency. Joining the RDA as its Founding Chairman, he remained in the role for more than thirteen years.

The award of Freeman of the Borough of Rochdale was very much a mark of Mr Bernstein's personal qualities and his commitment to serving the community in which his business was based. There was never any question of him seeking acknowledgement for the considerable voluntary work he carried out on behalf of the people of Rochdale and Middleton. His belief in the 'importance of giving something back' to the wider community, coupled to a drive to achieve excellence in everything he did, made him a much loved and respected individual.

RDA Chief Executive, John Hudson, said: "Barrie Bernstein was instrumental in establishing collaborative working between the public and private sector, a process that has brought many benefits to Rochdale and its residents.

"During his tenure at Rochdale Development Agency the idea of public/private partnership working became the norm for regeneration activities in the borough, with major projects such as Kingsway Business Park and the regeneration of Middleton town centre taking shape. This was only possible because of the rare combination of business skills and personal qualities that he possessed.

"Barrie's courage, honesty and integrity were respected by people of all sectors of the community and this was reflected in him being made a Freeman of the Borough shortly after he retired from Rochdale Development Agency. Barrie never looked for personal recognition, but I know he was very proud of being made a Freeman of Rochdale."

An extraordinary yet unassuming businessman, Mr Bernstein used his considerable skills, abilities and acumen to help numerous individuals on the road to success and to assist those with illness, disability and in hardship.

In addition to his associations with Rochdale and Middleton, Mr Bernstein's unpaid positions included fundraising for and working as a non-executive Director of The Christie Hospital NHS Foundation Trust, fundraising for the Royal Exchange Theatre, Manchester, working as Chairman of Trust of Academies in Manchester for the Bright Futures Educational Trust and working as Chairman of the Board of Governors at Altrincham Grammar School for Girls.

Mr Bernstein's fundraising efforts on behalf of The Christie Hospital have been fundamental to its progress over the past decade. He worked tirelessly to attract large donations from charitable trusts, raising some £600,000 and enabling the purchase of highly specialised radiotherapy equipment.

His work for Brookvale, a care home in Prestwich for people with special needs, highlighted a deep concern for others. Determined that learning-disabled young people should be as valued as the rest of the workforce, he provided meaningful paid work to several Brookvale residents over a ten-year period.

His vision and fundraising also saw the construction of the South Manchester Synagogue, a magnificent state-of-the-art building, inaugurated by HRH The Prince of Wales in April 2002.