A lesson in skills
Posted by on 20 Feb 2020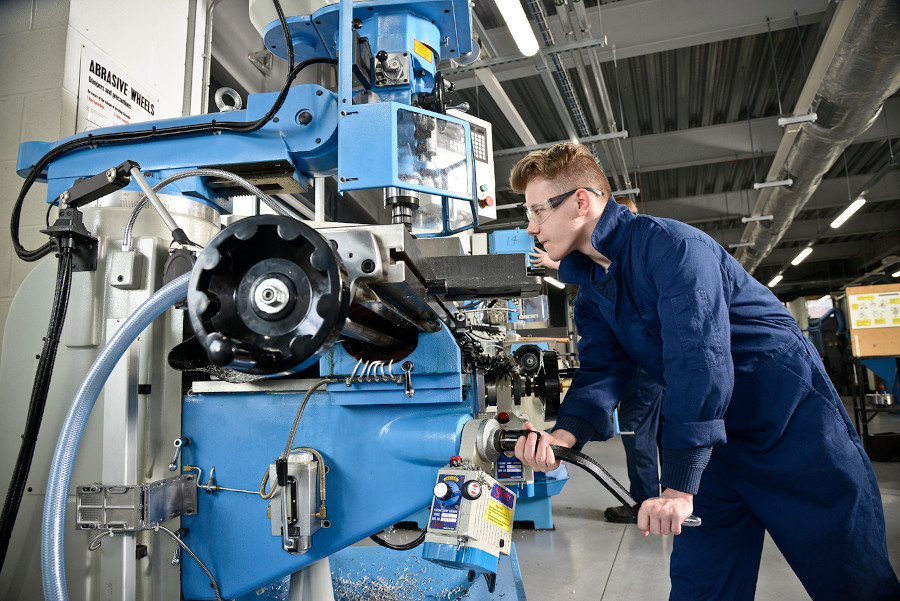 Hopwood Hall College works with local employers to make sure Rochdale has the skills it needs to succeed
Every town needs what Tracey Wood describes as "a talent pipeline for business." That means a flow of young people with the skills the local economy needs, and a diverse business ecosystem that can offer real opportunities for young people to learn, grow and thrive.
As head of business development at Hopwood Hall College, Tracey is helping to make sure Rochdale's talent pipeline is always well stocked.
One of her roles is to make sure students have somewhere to go beyond the classroom, and to prepare them for the world of employment. That means work placements while they're still at college, and jobs and apprenticeships when they leave. Tracey and her team forge close links with local business to help ensure those opportunities are available
"Our aim is to work in partnership with employers of all sizes to develop workforce skills," she says.
Hopwood Hall has created a dedicated Employer Services Team to offer one point of contact for business and manage all employer relationships. The team wants to support employers who
need to recruit and upskill their workforce, and can guide businesses to raise their brand
awareness and offer work experience, apprenticeships and industry placements.
For their part, the team will help to make sure businesses are offered the most suitable candidates for the opportunities they create.
"The team delivers a comprehensive recruitment and selection service which matches high quality candidates to vacancies," says Tracey.
A growing need
Hopwood Hall worked with local firms to create 118 work placements in 2019, but the demand is growing. For employers new to offering on the job training and mentoring, the Employer Services Team is an invaluable resource.
"Our team will co-create a meaningful work placements with your needs in mind, placements which are related to student studies and mutually beneficial for both student and employer," says Tracey.
Extended work placements are highly beneficial for employers, who get to see candidates in the work environment before offering more permanent positions. Motivated, engaged work placement candidates can also help to fill staffing needs.
For students, too, placements are a way to use the skills learnt in the classroom in a real world setting. A placement also gives them an idea of what employers are looking for in terms of skills, attitude, curiosity and a willingness to learn.
It works. Last year the college saw a 56% increase in students that undertook work placement progressing into a formal apprenticeship.
"We are very proud that 95% of our learners from the academic year 18/19 progressed onto positive destinations - employment, apprenticeships or higher education," says Tracey.
Ready to work
Hopwood Hall's dedicated careers service goes to great lengths to make sure students are ready for the world beyond college, and ready to offer real value to employers in Rochdale and Greater Manchester. The careers team works with students to forge the most relevant and appropriate path forward for each individual.
Its success was recently nationally recognised. In November advisor Ceri Wood won the national Careers Champion Award, an award recognising the great work done by individuals across the careers sector. Ceri has been helping young people and adults into work within Rochdale Borough for over 15 years.
From helping students make the best choices for their future, to forging strong relationships with local business, the goal is ultimately the same, says Tracey:
"The links we have with business are invaluable to us as we want to ensure that not only are we preparing learners to become skilled workers who are economically active, we also want to ensure that Rochdale has a pipeline of workers with the skills to improve the life chances of everyone in the Borough."