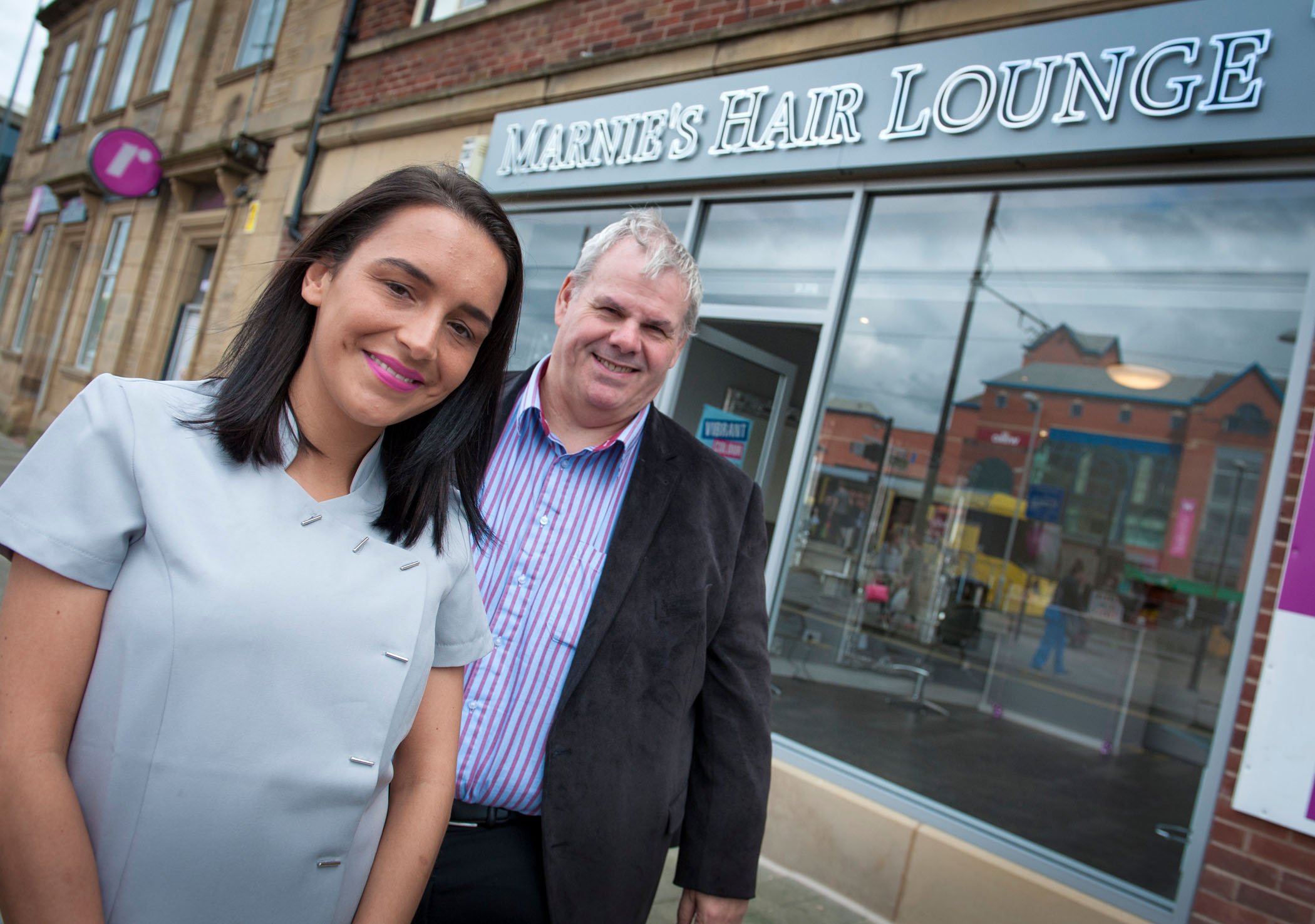 A cut above: council support helps hairdresser get head start on Rochdale's burgeoning business scen
Posted by Aahmed on 30 Aug 2017 at 11:08
A hairdresser with a razor sharp eye on Rochdale's regeneration has opened a new salon in a recently transformed part of the town centre.

Marnie Kennedy had more than a decade's experience of hairdressing in the town centre, but with help from both the council and Rochdale's thriving business community, she's now opened her own shop, Marnie's hair lounge, at number 2a Smith Street.

The newly-transformed property sits alongside the new transport interchange and directly opposite Rochdale's Metrolink stop, proving that the borough's ongoing £250m regeneration has been a driver for new business.

Marnie (27) from Shawclough, said: "This is a lovely part of town. It's very busy, with the new transport links being close-by. It's a historic building, so I love the combination of the old properties and new development."

And the council's new business improvement grant helped shave money from the renovation bill.

The new scheme, which has also helped new businesses like Petit Café and Simply Special open their doors in recent weeks, sees the council offer up to £5,000 of match funding to help eligible new businesses in Rochdale town centre renovate their unit.




Marnie has transformed the building from a shell to a fully equipped business premises, complete with new flooring, new lights, a new kitchen and new bathroom.

Marnie added: "I have always been a hairdresser, but didn't have the confidence to set up on my own. The council scheme has helped me realise my ambition. Rochdale has a very supportive business community and council, so that's why so many new places are opening at the moment. We need more of this type of thing, and if this kind of support continues, we'll get it."

Marnie has already employed one full-time and one part-time hairdresser and a make-up artist, all of whom are from Rochdale. She also has plans to employ another hairdresser for the unisex salon, which will be open Monday to Saturday from 9am to 5pm.

Councillor Richard Farnell, leader of Rochdale Borough Council, said: "I'm really pleased that we've been able to help a talented young entrepreneur like Marnie open her first new business, here in her home borough. This is part of our big drive to help bring more businesses and jobs into the borough.

"This new grant is a fantastic idea. Not only is it supporting the residents who will create jobs and make a better Rochdale, it also funds permanent improvements to often-neglected properties, some of which are part of the history of the town centre, so it's a long-term investment for our borough.

The council has a number of incentives on offer to help new businesses, which meet selected criteria, open in vacant units in Rochdale, Heywood and Middleton town centres, including business rates discounts. Businesses looking to open in Rochdale town centre can also apply for a grant to help renovate their unit.

Anyone who would like to find out more, can visit: rochdale.gov.uk/smallbizhelp