GMCT will help train 168,500 skilled workers for the construction sector over the next five years.
Posted by on 17 Mar 2020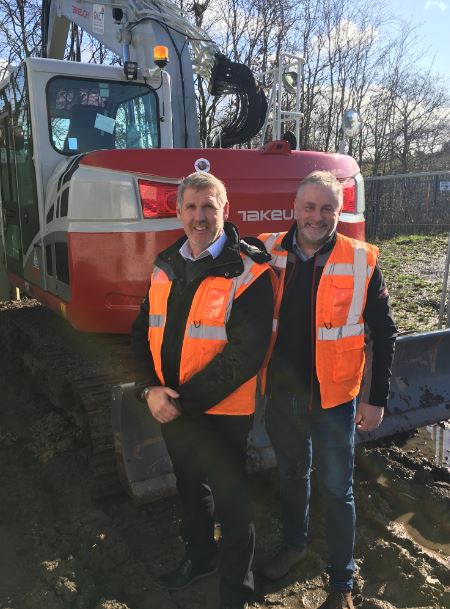 Estimates suggest that the UK construction sector requires an additional 168,500 skilled workers over the next five years, which is why Daniel and fellow director Ian Eardley set up Greater Manchester Construction Training (GMCT) in 2015.

Operating from a two-acre site near Rochdale, the company work with the construction, civil engineering and demolition industry, providing training for all staff and subcontractors from operatives to senior managers.
Daniel said: "The construction sector has a real skills shortage which means that everything from house-building to major infrastructure projects are stalling because of the shortage of qualified staff. That's where we come in.
"The construction industry build houses, schools, hotels, warehouses, leisure complexes, retail units and roads and have to be trained to do so. We teach people everything from digging excavations, installing drains, laying sewers to driving diggers, excavators and using the latest lifting equipment."
The 52-year-old said it's a world away from his previous occupation as a paratrooper with II Squadron RAF Regiment.
"During my career I was involved in everything from stopping rocket launchers in Iraq to peace-keeping operations in Kosovo," he said. "As I went through my career I started doing some property development and began retraining in the five years before I left.
"Soon after I began working in the construction sector I recognised there was a huge need for more training which is why we launched the Greater Manchester Construction Training."
His business partner Ian Eardley has worked in the construction and demolition industry for the last 30 years and said raising safety standards in the sector was a top priority.
"Unless you've got the relevant cards and competencies you're simply not allowed on a construction site," he said. "We offer everything from non-accredited, accredited, vocational and apprenticeship courses, including CPCS training and testing for many categories of plant."

Greater Manchester Construction Training worked with Rochdale Development Agency for 18 months before finding their current plot in Bowlee, Middleton.

It's thought to be the only training centre in Greater Manchester which offers national apprenticeships and adult education in operating construction machinery.

The company has a partnership with Japanese excavator manufacturer Takeuchi, which is based on Rochdale's Kingsway Business Park, to have access to their specialist machinery.

They're also working with Hopwood Hall College to work with apprentices and adult who are trying to get into the construction industry.

Brad said: "One thing we're determined to do is promote a career in construction as a great career path to choose. It's ideal for school-leavers or older people looking for a career change.

"You only to have to look at all the cranes on the landscape of Manchester to see the unprecedented levels of development taking place. That can only continue if the conveyor belt of talent coming through is there."