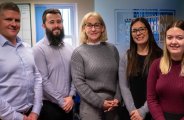 Recruitment Solutions (NW)
Like many business people, Gavin Reynolds remembers 2009 like it was yesterday. A global financial crisis quickly put thoughts of regeneration across the UK including Rochdale, on the back burner.
"I'd say that feeling lasted for around three years," says Gavin, who along with business partner Karen Reynolds had started finance recruitment specialist Recruitment Solutions (NW) from a kitchen table five years before. "But then we started to see the turnaround, the gradual improvement, and that hasn't stopped."
Gavin talks about the investment programme that has transformed the town centre, and the huge national businesses - like JD Sports and Footasylum - that have moved into Rochdale's high performing business parks.

Unstoppable momentum
His own business has thrived as the town has grown. Recruitment Solutions (NW) now employs ten people in Rochdale town centre, and places about 350 people a year in jobs in the region. These are high quality positions in finance, accounting and office support, from entry level roles to senior accountants and finance directors. "It's top to bottom," he says.
"The town has a momentum now that seems unstoppable," he continues. "The current growth of Rochdale feels real and sustainable. The town needed an attitude shift, to move the perception of Rochdale, and with the work of the Rochdale Ambassadors and the RDA, that is happening."
As an Ambassador, Gavin is happy to talk up the town to people he meets in the course of his work. There's plenty to be positive about, he says, from the town's enviable location and transport links, to its large, skilled, multicultural labour pool.
"You can see the regeneration of Rochdale in the movement of people," he says. "For many years you'd see everybody leaving the town in the morning to go and work in Bury, central Manchester and Trafford Park. Now you see people flooding into the town. That's real change."
Value in collaboration
The Ambassadors is good for attracting new businesses to Rochdale, but Gavin stresses that it is also good for companies already working in the borough.
"The business community here sees value in collaboration. We help each other to succeed. Ambassador events are great because they introduce you to new ideas and perspectives that you wouldn't get sitting at your desk. It's not networking - it's collaborating for the good of everyone."
The RDA takes ideas and implements them on the front line, he says. It's a unique setup, with the inspiration for improving the town as a place for business bubbling up from businesses themselves.
"Why not use that in-built expertise?" he asks. "That's why Rochdale is getting it right - it's putting into place the things that we know are good for business because the ideas come from business. That is creating sustainable success."