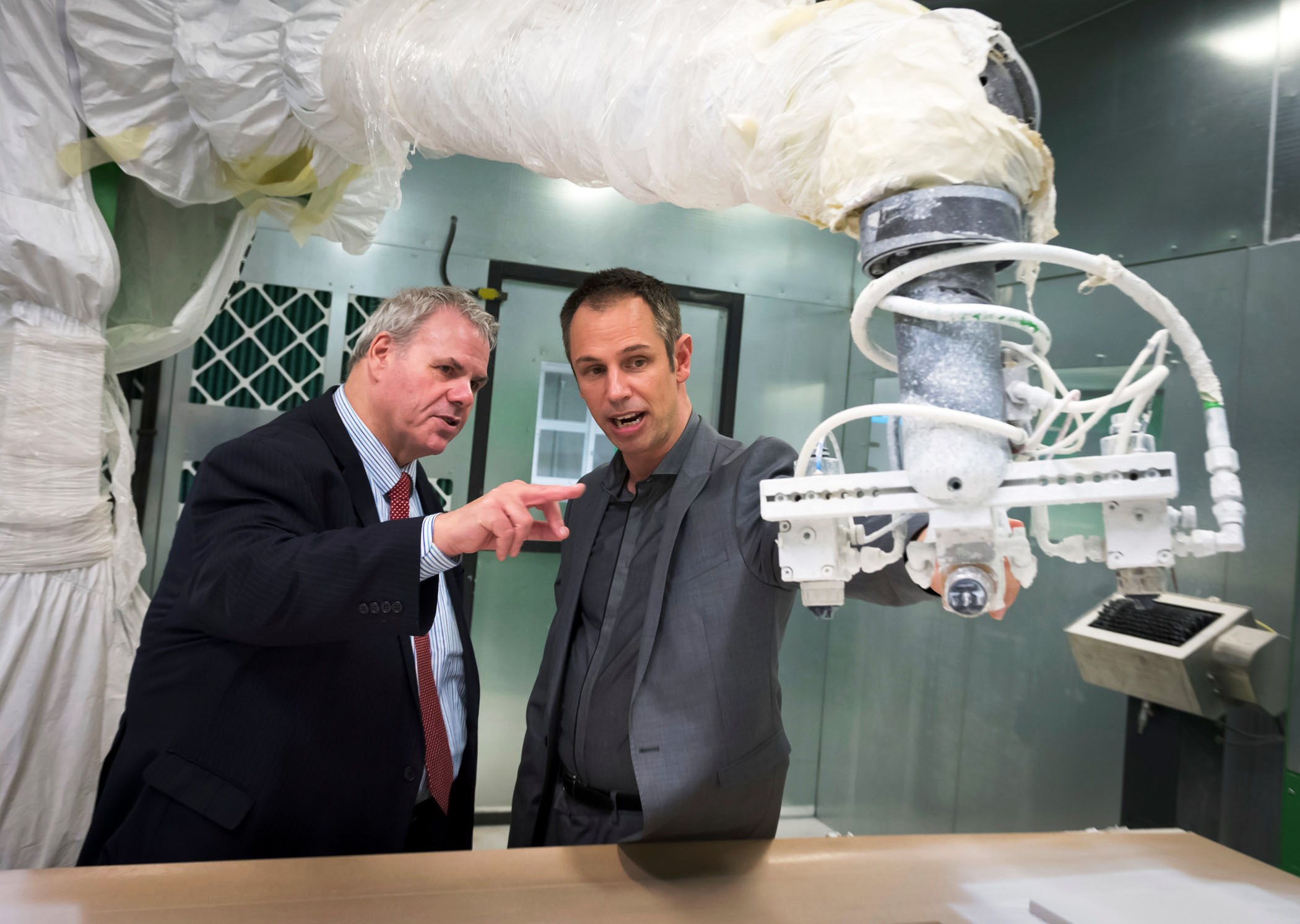 Sparkling success: Council helps Crystal Doors unlock potential
Posted by Aahmed on 13 Dec 2016 at 09:16
A Rochdale door company is taking on world-leading Italian furniture makers after becoming the first in the UK to buy a specialist paint spraying machine, with council help.

Crystal Doors, in Gorrells Way, is now competing with the best in the world, after it bought the high-tech paint spraying robot, which has only previously been used by Italian companies, whose craftsmanship is world-renowned.

The robot not only dramatically speeds up production, but uses 3D laser technology to produce a perfect finish.

The company has already secured a contract to produce the fittings for new luxury student accommodation in London as a result and is also powering ahead with a major job for Premier Inn, which will see them kit out a number of new hotels in the famous chain, as well as help to refurbish hundreds of others.

Owner Richard Hagan, who set up Crystal Doors 22 years ago, said: "This council grant has really opened doors for us. We can now produce units at just the same standard as the world leaders, and many British companies are now looking to buy British, rather than import, as the value of the pound has dropped in recent months. This new machine means we're poised to take full advantage of this opportunity and ensure that Rochdale can hold its own as a global leader in a new field of enterprise."

As well as improving the quality of the product, production has upped from 2,000 units a week to 3,000, and Richard has already employed six new machine operators, with plans to employ a further six next year.

Richard is now hoping to add other big name clients to his list, which already includes Next, M&S, New Look and serval NHS trusts. One of Crystal Doors' latest projects has been some internal refurbishment at La Minhaz restaurant in Middleton, which has also seen its historic exterior transformed with the help of a council grant.

Leader of Rochdale Borough Council, Councillor Richard Farnell, said: "A little council support can give businesses a big boost, and in the case of Crystal Doors, they can now compete on the world stage and push for even bigger contracts, which means more jobs for our residents. I'm proud to hear we have a world leader in Rochdale and wish them every success in the future."

And Crystal Doors also supports the local community, as a funder of Q Gardens, a council and RBH-managed community garden in Queen's Drive, Kirkholt. The gardens are a community garden and hold open events on Wednesdays and Sundays, where people can come and garden, while enjoying free tea and coffee.

Richard Hagan added: "I love working in Rochdale. We're so well connected that many of our clients come to see us while they're on the way somewhere because we're just off the motorway and in the centre of the country. I've always found the council and RDA really easy to work with as well, because they can help you access grants and they tend to come back with answers really quickly."

Anyone interested in investing in Rochdale or expanding their business in the borough can contact info@investinrochdale.co.uk or 01706 868999.